The Chronology and History of the World: From the Creation to the Year of Christ 1753, Illustrated in LVI tables; of Which IV are Introductory & Include the Centurys Prior to the Ist Olympiad, and Each of the Remaining LII Contain in One Expanded View, 50 Years or Half a Century
From Wythepedia: The George Wythe Encyclopedia
by John Blair
The Chronology and History of the World

Title page from The Chronology and History of the World, George Wythe Collection, Wolf Law Library, College of William & Mary.

Author
John Blair
Editor
{{{editor}}}
Translator
{{{trans}}}
Published
London: [s.n.]
Date
1754
Edition
First
Language
English
Volumes
{{{set}}} volume set
Pages
148
Desc.
Folio (46 cm.)
Location
Shelf A-5
 
[[Shelf {{{shelf2}}}]]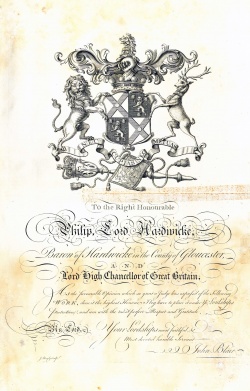 John Blair
(d. 1782) was a Church of England clergyman and chronologist best know for his numerous printings, re-printings, and editions of
The Chronology and History of the World
.
[1]
"In the early 1750s Blair issued Proposals for Printing by Subscription, the General Chronology and History of the World, a work he is said to have adapted from chronological tables originally devised by his Edinburgh classmate and distant relation, Hugh Blair. The Chronology and History of the World was published in London in early summer 1754. The book quickly became the standard work of its kind and was frequently reprinted throughout the eighteenth and nineteenth centuries."[2]
Updated editions continued to be published after Blair's death through 1904, although "'all that remain[ed] of Blair" in later editions was the "general outline."[3]
Evidence for Inclusion in Wythe's Library
Listed in the Jefferson Inventory of Wythe's Library as Blair's Chronology. fol. and kept by Thomas Jefferson. Jefferson later sold a copy to the Library of Congress, but that copy no longer survives.[4] Both the Brown Bibliography[5] and George Wythe's Library[6] on LibraryThing list the first edition of this title as the one intended by Jefferson's entry. The Wolf Law Library followed their recommendations and purchased a copy of the first edition for the George Wythe Collection.
Description of the Wolf Law Library's copy
Rebound in quarter brown leather and red bookcloth with new endpapers.
Images of the library's copy of this book are available on Flickr. View the record for this book in William & Mary's online catalog.
See also
References
External Links
Read this book in Google Books.