C. Plinii Secundi Naturalis Historiæ
From Wythepedia: The George Wythe Encyclopedia
by Pliny the Elder
C. Plinii Secundi Naturalis Historiæ.

Title page from C. Plinii Secundi Naturalis Historiæ., volume two, George Wythe Collection, Wolf Law Library, College of William & Mary.

Author
Pliny the Elder
Editor
{{{editor}}}
Translator
{{{trans}}}
Published
Lugd. Batav. & Roterodami: Apud Hackios
Date
1668-1669
Edition
{{{edition}}}
Language
Latin with Greek references
Volumes
3 volume set
Pages
[16] 839, [66], 917, [43], 853, [41]
Desc.
8vo (21 cm.)
Location
Shelf J-4
 
[[Shelf {{{shelf2}}}]]
Gaius Plinius Secundus (23 – 79 AD), known as Pliny the Elder, was an author, scholar, and statesman of ancient Rome. His most notable work is his 37 volume Natural History.[1] Up until Pliny's time, science had been an area of Greek expertise, but Pliny "Romanized" it.[2] Pliny was very thorough in his coverage of natural phenomena and approached it from a very stoic point of view. He believed nature was fundamentally good because God created it.[3]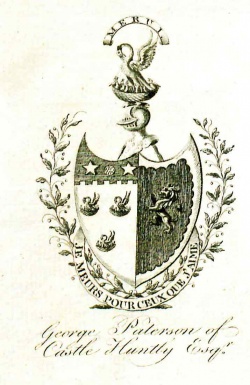 Naturalis Historiæ is broken into two main sections of eighteen volumes each. The first section describes nature itself, while the second discusses nature's relation to man.[4] Pliny the Elder's vast knowledge is attributed to his habit of continuous study by his nephew, Pliny the Younger, in one of his letters. Pliny the younger claimed that his uncle was so diligent that when "In the country his whole time was devoted to study, excepting only when he bathed."[5] Pliny the Elder died in pursuit of scientific knowledge when he decided to investigate the eruption of Mt. Vesuvius (a trip that soon turned to an evacuation of the towns in danger.)[6] Pliny probably succumbed to an asthma attack which was brought on by sulfurous fumes.[7]
Evidence for Inclusion in Wythe's Library
Listed in the Jefferson Inventory of Wythe's Library as "Plinii historia Naturalis. Varior. 3.v. 8vo." This was one of the titles kept by Thomas Jefferson and later sold to the Library of Congress in 1815. Both the Brown Bibliography[8] and George Wythe's Library[9] on LibraryThing include the 1668-1669 edition published in Leiden based on Millicent Sowerby's entry in Catalogue of the Library of Thomas Jefferson.[10] The volumes owned by Wythe no longer exist to verify the edition, however, the Wolf Law Library purchased the edition recommended by Sowerby.
Description of the Wolf Law Library's copy
Bound in full calf with raised bands. Spines in six panels with morocco title label to second panel, gilt volume number in third, remaining panels with gilt central lozenge and volute corner pieces. Has gilt double rule to covers. Each volume contains the bookplate of George Paterson of Castle Huntley, Esq. on the front pastedown.
Images of the library's copy of this book are available on Flickr. View the record of this book in William & Mary's online catalog.
See also
References
External Links