C. Cornelii Taciti Opera, Quae Exstant
From Wythepedia: The George Wythe Encyclopedia
C. Cornelii Taciti Opera, Quae Exstant: J. Lipsii, Rhennani, Ursini ... & Selectis Aliorum Commentariis Illustrata
by Cornelius Tacitus
C. Cornelii Taciti Opera, Quae Exstant

Title page from C. Cornelii Taciti Opera, Quae Exstant, George Wythe Collection, Wolf Law Library, College of William & Mary.

Author
Cornelius Tacitus
Editor
Joannes Gronovius and Jacobus Gronovius
Translator
{{{trans}}}
Published
Amstelodami: Apud Danielem Elsevirium
Date
1672-1673
Edition
{{{edition}}}
Language
Latin
Volumes
2 volume set
Pages
{{{pages}}}
Desc.
8vo (20 cm.)
Location
[[Shelf {{{shelf}}}]]
 
[[Shelf {{{shelf2}}}]]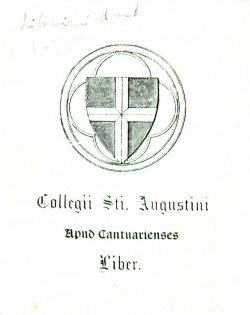 (Publius) Cornelius Tacitus was born in Roman-governed Gaul around 56 CE. His senatorial career progressed quickly, helped along, no doubt, by his marriage in 77 CE to the daughter of Iulius Agricola, the Roman general and seven-year governor of Britain.

Tacitus's first work, published in 98 CE, was a biography and funerary tribute to his father-in-law, assuring his surviving widow and daughter that Agricola would "live on" through the work.[1] Shortly following this was his ethnographical monograph Germania. Tacitus's most famous work is his Histories, which contained twelve or fourteen books covering the period of 69-96 CE. Unlike other historians of his time, Tacitus wanted to entertain his readers with vivid and emotional stories. Consequently, his facts often were confusing or absent from the work. As none of his sources survive to this day, Tacitus's works can be viewed as entirely his own. His poetic writing style, highlighted by his extensive use of metaphor, elevated his writing to a level beyond historical prose. However, it must, as with all other ancient histories, be taken with a grain of salt as to historical accuracy due to the common convention of elaboration or pure invention to "make his narrative more colourful and exciting."[2]

C. Cornelii Taciti Opera, Quae Exstant contains the extant works of Tacitus in two volumes. It was published in Amsterdam in 1672-73. The main focus of the first volume is Tacitus's Annals, though it also includes excerpts from incomplete books of the Annals. The second volume contains Tacitus's "The Death of Nero and the Beginning of Galba", "On the death of Nero, The Histories" Books 1-5, "A Pamphlet on the Situation, Behavior, and People of Germany," "The Life of Julius Agricola," "Dialogues" and the Index.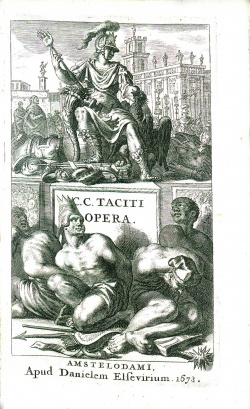 Evidence for Inclusion in Wythe's Library
Listed in the Jefferson Inventory of Wythe's Library as Tacitus. Varior. 2.v. 8vo. and given by Thomas Jefferson to his grandson Thomas Jefferson Randolph. The precise edition owned by Wythe is unknown. George Wythe's Library[3] on LibraryThing indicates this without further identifying an edition. The Brown Bibliography[4] lists the 1672 edition published in Amsterdam based on the copy Jefferson sold to the Library of Congress.[5] The Wolf Law Library followed Brown's suggestion and purchased the 1672 edition edited by Joannes and Jacob Gronovius.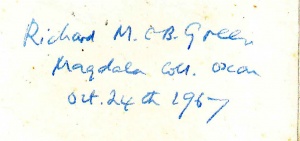 Description of the Wolf Law Library's copy
Bound in contemporary vellum over boards with a hand-lettered spine. Signatures of "C. Brodribb, 1949," and "Richard M. C-B Green, Magdalen College, Oxford, 1967" on the front free endpaper of volume one. Richard Green also signed volume two on the front free endpaper. Both volumes include the bookplates of "Collegii Sti Augustini" (St. Augustine College, Canterbury) on the front pastedown. Purchased from Rosenlund Rare Books & Manuscripts.
View this book in William & Mary's online catalog.
References
External Links
Read volume one of this book in Google Books.