Brownlow Latine Redivivus
From Wythepedia: The George Wythe Encyclopedia
Brownlow Latine Redivivus: a Book of Entries, of Such Declarations, Informations, Pleas in Barr and Abatement, Replications, Rejoynders, Issues, Verdicts, Bills of Exception to Verdicts, Judgements, Demurrers, and other Parts of Pleadings, (Now in Use) in Personal and Mixt Actions; Contained in the First and Second Parts of the Declarations and pleadings of Richard Brownlow
by Richard Brownlow
Brownlow Latine Redivivus

Title page from Brownlow Latine Redivivus, George Wythe Collection, Wolf Law Library, College of William & Mary.

Author
Richard Brownlow
Editor
{{{editor}}}
Translator
{{{trans}}}
Published
London: Printed by the assigns of Richard and Edward Atkyns, Esquires
Date
1693
Edition
First Latin edition; pages.
Language
Latin with occasional English notes
Volumes
{{{set}}} volume set
Pages
[6], 506 (i.e. 406), [46]
Desc.
Folio (33 cm.)
Location
[[Shelf {{{shelf}}}]]
 
[[Shelf {{{shelf2}}}]]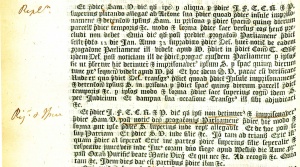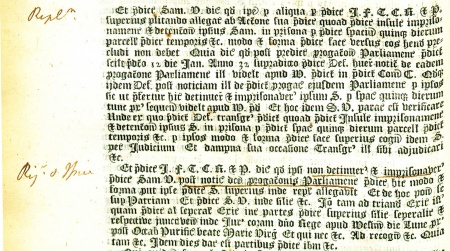 Richard Brownlow (1553-1638) entered the
Middle Temple
in 1583 and became Chief Protonotary of the
Court of Common Pleas
in 1590, a position he held until his death.
[1]
The position was "one of the most important and lucrative clerical offices in a period when court business was growing at an unprecedented pace."
[2]
It was worth approximately £3000 a year.
[3]
Brownlow maintained very careful records, many of which can be found in
Brownlow Latine Redivivus: a Book of Entries, of Such Declarations, Informations, Pleas in Barr and Abatement, Replications, Rejoynders, Issues, Verdicts, Bills of Exception to Verdicts, Judgements, Demurrers, and other Parts of Pleadings, (Now in Use) in Personal and Mixt Actions; Contained in the First and Second Parts of the Declarations and pleadings of Richard Brownlow
.
[4]
Brownlow Latine Redivicus
was originally an English translation of Brownlow's Latin precedents for plea roll entries.
[5]
Most of its material dates from 1600–1615.
[6]
It was published several times during the 1650s when Parliament had made English the official legal language of record.
[7]
After Latin was reestablished as the official legal language of record during the 1660s, it was translated into Latin and republished. The 1693 edition is considered "the first complete edition of Brownlow's Forms."
[8]
Evidence for Inclusion in Wythe's Library
There is no doubt that Wythe owned this title—a copy of the 1693 edition of Brownlow Latine Redivivus at the Library of Congress includes George Wythe's bookplate. Thomas Jefferson also listed Brownlow's entries in his inventory of Wythe's Library, noting that he kept the volume himself. He later sold it to the Library of Congress in 1815. Both Brown's Bibliography[9] and George Wythe's Library[10] on LibraryThing include the 1693 edition Brownlow Latine Redivivus. The Wolf Law Library moved a copy of the same edition from another rare book collection to the George Wythe Collection.

Description of the Wolf Law Library's copy
Rebound in period style with green title label and raised bands to spine. Includes the signature "T. Tomlinson Temple" on the title page and " "George Bougthon" (inverted) on the last page of text. Purchased through the generosity of Daniel W. Baran and Lena Stratton Baran, Class of 1936.
View this book in William & Mary's online catalog.
References
External Links
Read this book in Google Books.