A Book of Entries: Containing Perfect and Approved Presidents of Counts, Declarations, Informations, Pleints, Indictments, Barres, Replications, Rejoynders, Pleadings, Processes, Continuances, Essoines, Issues, Defaults, Departure in Despight of the Court, Demurrers, Trials, Judgements, Executions, and All Other Matters and Proceedings (in Effect) Concerning the Practick Part of the Laws of England, in Actions Real, Personal, and Mixt, and in Appeals
From Wythepedia: The George Wythe Encyclopedia
by Sir Edward Coke
A Book of Entries

Title page from A Book of Entries, George Wythe Collection, Wolf Law Library, College of William & Mary.

Author
Sir Edward Coke
Editor
{{{editor}}}
Translator
{{{trans}}}
Published
London: Printed by John Streater, James Flesher, and Henry Twyford, assigns of Richard Atkins and Edward Atkins
Date
1671
Edition
Second, carefully corrected
Language
Prefaces in Latin and English; text in Latin; index in French.
Volumes
{{{set}}} volume set
Pages
9, 713 leaves, [17]
Desc.
Folio (35 cm.)
Location
Shelf K-5
 
[[Shelf {{{shelf2}}}]]

Born on February 1, 1552 at Mileham, Norfolk, Sir Edward Coke (1552-1634) was arguably the most prominent lawyer, legal writer, and politician during the Elizabethan and Jacobean eras, and a defender of the common law over the use of the Stuarts' royal prerogative.[1]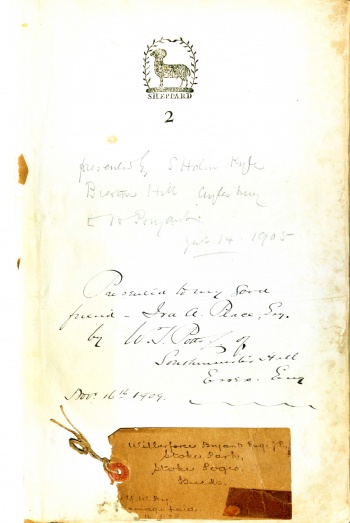 Coke began his studies in 1567 at Trinity College, Cambridge during the years of the Vestiarian controversy—puritan protests against the Church of England. In 1572 he moved on to study at the Inner Temple, where he was admitted to the bar on April 20, 1578. Coke quickly rose to prominence through his successful execution of several noteworthy cases, such as Shelley's case. Coke's analytical efforts helped to refine the legal doctrines of English law, and his reputation won him a seat in Parliament. He would later become the Speaker of the House of Commons and eventually attorney general.[2] In 1606, after being created serjeant-at-law, Coke was appointed chief justice of the Court of Common Pleas. He was transferred, against his will, to chief justice of the Court of King's Bench in 1613; he also became a member of the privy council.[3]
After several political and judicial skirmishes with James I and Francis Bacon, Coke was suspended from the privy council and removed from the bench in 1616.[4] Although he never returned to the bench, Coke did return to Parliament and was elected to that body four times from 1620 to 1629. During this time he took a lead in creating and composing the Petition of Right. "This document cited the Magna Carta and reminded Charles I that the law gave Englishmen their rights, not the king ... Coke's petition focused on ... due process, protection from unjust seizure of property or imprisonment, the right to trial by jury of fellow Englishmen, and protection from unjust punishments or excessive fines."[5] After this triumph, Coke spent his remaining years at his home, Stoke Poges, working on The Institutes of the Laws of England, another endeavor for which he is rightly famous.[6]
A Book of Entries is a massive collection of pleadings intended to guide other lawyers through England's courts.[7] Published in law French, the volume to some degree supplements Coke's Reports because it contains the entire record of many cases in the latter set.[8]
Evidence for Inclusion in Wythe's Library
Both Dean's Memo[9] and the Brown Bibliography[10] suggest Wythe owned the second edition (1671) of Coke's Book of Entries based on notes in John Marshall's commonplace book.[11] The Wolf Law Library followed their suggestions and purchased a copy of the 1671 edition.
Description of the Wolf Law Library's copy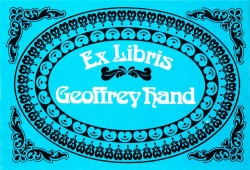 Rebound in buckram, rebacked in period style calf. Includes the bookplate of Geoffrey Hand on the front pastedown. Front flyleaf inscribed by several previous owners. Purchased from Meyer Boswell Books.
Images of the library's copy of this book are available on Flickr. View the record for this book in William & Mary's online catalog.
Full text
See also
References