Bicentennial Postcards
From Wythepedia: The George Wythe Encyclopedia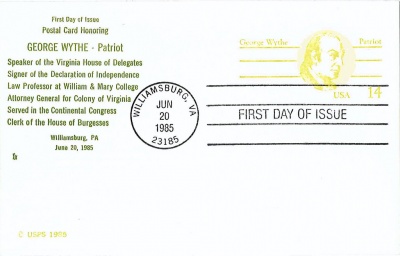 The U.S. Postal Service celebrated the United States Bicentennial by issuing the American Patriots Series of postal stamps, cards, and souvenir sheets. The Series honored individuals who were integral in the formation of the young country. From 1971 to 1985, the Postal Service issued 30 postcards depicting individuals such as Paul Revere, Samuel Adams, and Nathan Hale.

   On June 20, 1985, George Wythe was added to the collection. The 14 cent Wythe stamp included the words "George Wythe – Patriot," and featured a print of John Ferguson Weir's portrait of Wythe, which still hangs in Independence National Park in Philadelphia.

   Each postcard in the collection depicts Wythe in a unique way, emphasizing various aspects of his life and contributions to the early United States.