Bailey v. Teackle
From Wythepedia: The George Wythe Encyclopedia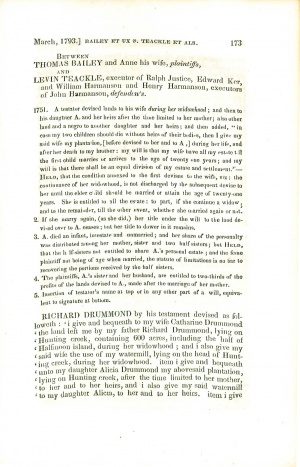 Bailey v. Teackle, Wythe 173 (1793),[1] discussed whether the expressed desire in a will to equally divide an estate overrode a condition against remarrying for one of the parties, and also discussed whether half-siblings were considered descendants under the will's terms.
Background
Richard Drummond wrote a will leaving land to his wife, Catharine, for the period of her widowhood. Richard's will left that same land to his daughters, Alicia and Anne, and their heirs after Catharine's ownership ended. If both Alicia and Anne died without heirs, the will left the property to Catharine during her life, and then to Richard's brother Spencer Drummond. The testament also stated that Richard's "will" was for Catharine to have his entire estate until the first child marries or becomes 21, and that he wanted the estate to be equally divided.
The People Involved
Catharine's (maiden name Harmanson) first husband was John Shepard. They had two daughters, Margaret and Elizabeth. Margaret married Edward Ker, and Elizabeth married John Harmanson.
After Shepard died, Catharine married Richard. They had two daughters, Alicia and Anne. Richard died in 1750. Alicia died in 1753 or 1754, never reaching 21 years of age.
In 1756, Catharine married Ralph Justice. Ralph died in December 1759, making Levin Teackle executor of his estate.
Anne married Ralph's son William Justice in May 1759 while possibly still under 21 - her exact age at the time was in dispute. William died in April 1762. Anne married Thomas Bailey in November 1762.
Timeline
Anne and Thomas filed suit against Teackle in March 1767, claiming that Richard died intestate,[2] and that after Richard's death Ralph took Richard's land and property and claimed the profits from that land and property, and converted some of Richard's personal estate to his own use. Anne and Thomas demanded an accounting of the profits and personal estate, and demanded payment for Anne's share of the property and profits. Teackle replied that Ralph distributed Alicia's part of the estate between Anne, Catharine, Margaret, and Elizabeth, per legal advice. Teackle added that Ralph delivered the entire estate to William when William married Anne, which relieved Ralph of any further duty to account for the estate or its profits.
In May 1787, Anne and Thomas amended their cause of action. Anne and Thomas added Edward and John as defendants and claimed that Margaret and Elizabeth were not entitled to any share of Richard's estate, and that Edward and John should return the money from Richard's estate that Margaret and Elizabeth wrongly received.
The Court's Decision
The High Court of Chancery held that the condition that Catharine remain a widow applied to all of the property Richard gave her in the will. Once Catharine remarried, the Court said, she (and therefore Ralph) lost the rights to any of the property Richard gave her in the will and testament. The only estate Catharine was entitled to was her one-third of Richard's estate she received in dower. The Court ordered Teackle to pay Anne and Thomas two-thirds of the profits that Ralph had gotten from the land that Richard left to Alicia.
The Court also held that Margaret and Elizabeth were not entitled to any of the shares of Alicia's personal estate, since the law at the time said that the court should appoint successors to an intestate estate based on whom the deceased would have appointed. Because Richard's will left the property to his brother Spencer if Catharine, Alicia, and Anne died, the presumption is that Richard favored heirs from his side of the family, and therefore would have disfavored heirs from Catharine's previous marriage.
The Court also held that the statute of limitations did not bar the Baileys from trying to recover Anne's proper share of Alicia's estate, because Teackle violated his duty as a trustee when he distributed that estate among Alicia's mother and three sisters. The Court said that if Anne was 21 when she married William, she was entitled to recover her half of Alicia's estate from Teackle. If Anne was under 21 when she married William, she was entitled to recover her half of Alicia's estate from Ker and the executors for Harmanson's estate.
The Court ordered Master Commissioner Hay to determine Anne's age when she married Ralph, and to settle all the accounts.
References
↑ George Wythe, Decisions of Cases in Virginia by the High Court of Chancery with Remarks upon Decrees by the Court of Appeals, Reversing Some of Those Decisions, 2nd ed., ed. B.B. Minor (Richmond: J.W. Randolph, 1852): 173.
↑

Wythe does not say why Anne and Thomas believed Richard died intestate; the most reasonable inference is that they thought Richard's will as presented by Catharine was a forgery. If the will was a forgery and Richard died intestate, then presumably Anne would inherit the estate except for Catharine's dower. In the end, though, Anne and Thomas decided against contesting the will's validity.