The Anglo-Saxon Version, From the Historian Orosius
From Wythepedia: The George Wythe Encyclopedia
by Orosius
The Anglo-Saxon Version, From the Historian Orosius

Title page from The Anglo-Saxon Version, From the Historian Orosius, volume one, George Wythe Collection, Wolf Law Library, College of William & Mary.

Author
Oroius
Editor
{{{editor}}}
Translator
Anglo-Saxon translation attributed to Alfred, King of England; English translation by Daniel Barrington
Published
London: Printed by W. Bowyer and J. Nichols
Date
1773
Edition
First
Language
English and Anglo-Saxon
Volumes
2 volume set
Pages
{{{pages}}}
Desc.
8vo (22 cm.)
Location
[[Shelf {{{shelf}}}]]
 
[[Shelf {{{shelf2}}}]]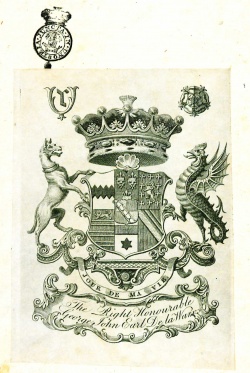 Paulus Orosius (born c. 375, died after 418) was a priest, historian, theologian, and a student of Augustine of Hippo.
Alfred the Great, son of King Aethelwulf of Wessex, was born in 849.[1] He reigned from 871 to 899, and died with charters referring to him as king of the Anglo-Saxons.[2] Much of what is known about Alfred comes from a biography by Bishop Asser, a man who was close to the king.[3] Four books are attributed to Alfred and he had other works, "books necessary for all men to know," translated.[4]
An anonymous translator, most likely inspired by Alfred's enthusiasm for Latin learning,[5] produced an Old English version of Orosius's Historiae Adversum Paganos. In 1773, Daniel Barrington translated the Old English and produced The Anglo-Saxon Version, From the Historian Orosius. Unfortunately, the Barrington's text received "much criticism for its unreliability."[6]
Evidence for Inclusion in Wythe's Library
Listed in the Jefferson Inventory of Wythe's Library as Barrington's Orosius. Saxon & English. 8vo. and given by Thomas Jefferson to his grandson Thomas Jefferson Randolph. The only edition of Orosius translated by Daines Barrington was published in London in 1773. Both George Wythe's Library[7] on LibraryThing and the Brown Bibliography[8] list this particular work. The Wolf Law Library followed their suggestions and purchased the 1773 title.

Description of the Wolf Law Library's copy
Bound in quarter calf with marbled boards. Spines feature bands and gilt rules and green morocco labels with gilt lettering. The front pastedown of each volume includes the bookplate of the Right Honourable George John, Earl De la Warr&mdash[1],_5th_Earl_De_La_Warr George Sackville-West], fifth Earl De la Warr&mdashthe stamp of the Order of the Bath and a shelf designation. Both half-title pages inscribed "St. Petersburg, 1774." and "W. Tooke." Purchased from Pazzo Books.
View this book in William & Mary's online catalog.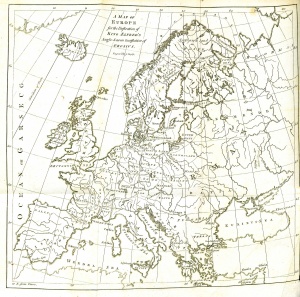 References
External Links
Read this book in Google Books.