"Wythe's Virginia Reports"
From Wythepedia: The George Wythe Encyclopedia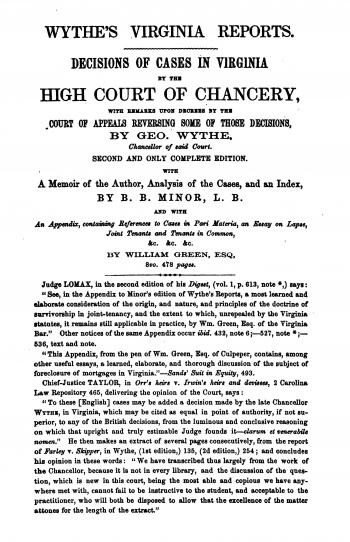 The second edition of George Wythe's Decisions of Cases in Virginia, by the High Court of Chancery, edited by B.B. Minor, was published in 1852.[1] The publisher, J.W. Randolph, advertised the new edition in many of their books, including this ad for "Wythe's Virginia Reports" from the back matter of Hugh Blair Grigsby's The Virginia Convention of 1776 (1855)[2]
Randolph's advertisement includes a blurb with quotes promoting the accuracy and authority of the new edition of the Reports. The quoted authors include Judge John Tayloe Lomax (1781–1862), Alexander Hamilton Sands (1828–1887), and John William Wallace (1815–1884).
There is also a quoted citation of one of Wythe's cases, from an 1816 decision from North Carolina Chief Justice John Louis Taylor (1769–1829), a probable former student of Wythe's. Taylor compares Wythe's reasoning to that in similar English cases, finds Wythe equal or superior, and declares him "clarum et venerabile nomen": an illustrious and venerable name.[3]
Advertisement text, 1855
Back matter, page iv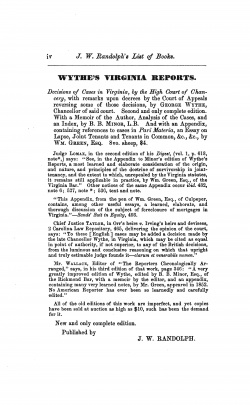 J. W. Randolph's List of Books.
---
WYTHE'S VIRGINIA REPORTS.
Decisions of Cases in Virginia, by the High Court of Chancery, with remarks upon decrees by the Court of Appeals reversing some of those decisions, by GEORGE WYTHE, Chancellor of said court. Second and only complete edition. With a Memoir of the Author, Analysis of the Cases, and an Index, by B. B. MINOR, L.B. And with an Appendix, containing references to cases in Pari Materia, an Essay on Lapse, Joint Tenants and Tenants in Common, &c, &c, by WM. GREEN, ESQ. 8vo. sheep, $4.
Judge Lomax, in the second edition of his Digest, (vol. 1, p. 613, note*,) says: "See, in the Appendix to Minor's edition of Wythe's Reports, a most learned and elaborate consideration of the origin, and nature, and principles of the doctrine of survivorship in joint-tenancy, and the extent to which, unrepealed by the Virginia statutes, it remains still applicable in practice, by Wm. Green, Esq., of the Virginia Bar." Other notices of the same Appendix occur ibid. 432, note 6; 527, note *; 536, text and note.
"This Appendix, from the pen of Wm. Green, Esq., of Culpeper, contains, among other useful essays, a learned, elaborate, and thorough discussion of the subject of foreclosure of mortgages in Virginia."—Sands' Suit in Equity, 493.
Chief Justice TAYLOR, in Orr's heirs v. Irving's heirs and devisees, 2 Carolina Law Repository, 465, delivering the opinion of the court, says: "To these [English] cases may be added a decision made by the late Chancellor Wythe, in Virginia, which may be cited as equal in point of authority, if not superior, to any of the British decisions, from the luminous and conclusive reasoning on which that upright and truly estimable judge founds it—clarum et venerabile nomen."
Mr. Wallace, Editor of "The Reporters Chronologically Arranged," says, in his third edition of that work, page 346: "A very greatly improved edition of Wythe, edited by B. B. Minor, Esq., of the Richmond Bar, with a memoir by the editor, and an appendix, containing many very learned notes, by Mr. Green, appeared in 1852. No American Reporter has ever been so learnedly and carefully edited."
All of the old editions of this work are imperfect, and yet copies have been sold at auction as high as $10, such has been the demand for it.
New and only complete edition.


Published by
J. W. RANDOLPH.
See also
References
↑ George Wythe, Decisions of Cases in Virginia, by the High Court Chancery, with Remarks upon Decrees by the Court of Appeals, Reversing Some of Those Decisions, ed. B.B. Minor (Richmond, VA: J.W. Randolph, 1852).
↑ "J.W. Randolph's List of Books," in Hugh Blair Grigsby, The Virginia Convention of 1776: A Discourse Delivered before the Virginia Alpha of the Phi Beta Kappa Society, in the Chapel of William and Mary College, in the City of Williamsburg, on the Afternoon of July the 3rd, 1855 (Richmond, VA: J.W. Randolph, 1855), back matter, iv. Advertisements also appeared in J.W. Randolph editions of Edmund Ruffin, An Essay on Calcareous Manures (1852); Cornelius Walker, Memoir and Sermons of the Rev. William Duval, City Missionary, Richmond (1854); James Madison, et al., The Virginia Report of 1799-1800 (1850, reprint c. 1854); and Southern and South-Western Sketches: Fun, Sentiment and Adventure, edited by a Gentleman of Richmond (n.d.). Although Sketches bears no date of publication, it cannot have been printed before 1854, since the advertisement quotes from Sands' History of a Suit in Equity, which appeared in that year.
↑ Orr v. Irwin, 4 N. Car. Rep. 273.
External links