Oeuvres de Monsieur de Montesquieu
From Wythepedia: The George Wythe Encyclopedia
by Charles de Secondant, Marquis de Montesquieu
Oeuvres de Monsieur de Montesquieu

Title page from Oeuvres de Monsieur de Montesquieu, George Wythe Collection, Wolf Law Library, College of William & Mary.

Author
Charles de Secondant, Marquis de Montesquieu
Editor
François Richer
Translator
{{{trans}}}
Published
Londres: Nourse
Date
1767
Edition
Nouv. éd. rev., cor., & considérablement augm. par l'auteur.
Language
French
Volumes
3 volume set
Pages
{{{pages}}}
Desc.
4to (27 cm.)
Location
[[Shelf {{{shelf}}}]]
 
[[Shelf {{{shelf2}}}]]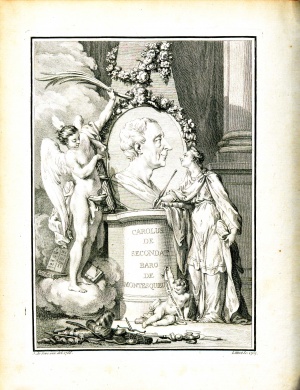 Œuvres de Monsieur de Montesquieu
is the collected work of the Enlightenment-era French jurist, satirist, and political and social philosopher, Charles Louis de Secondat, Baron de La Brède and de Montesquieu (1689-1755). Born at La Brède, Montesquieu received a progressive education at the Oratorian Collège de Juilly and an education in law at University of Bordeaux in 1708.
[1]
After completing his education, he inherited the barony of Montesquieu in 1716, and the office of Président à Mortier at the Parliament of Guyenne at Bordeaux from his uncle.
[2]
In 1721, Montesquieu rose to national and international fame when he published his first work,
Lettres Persanes
(
The Persian Letters
), a critical commentary of European civilization, customs, and institutions from the point of view of three Persians traveling in Europe.

Montesquieu continued to write until his death. His most influential work was, L'Esprit des Lois (The Spirit of the Laws), where he argued that "only a constitutional government that separates its executive, legislative, and judicial powers preserves political liberty, taken as the power to do what one ought to will. A constitutional monarchy with separation of powers is the best form of government."[3] Montesquieu's idea of separation of powers influenced the authors of the United States Constitution and the political philosophers Edmund Burke and Jean-Jacques Rousseau.[4]
Evidence for Inclusion in Wythe's Library
While studying law under Wythe at the College of William & Mary, Thomas Lee Shippen wrote to his father describing his course of study, "From breakfast to dinner, I read Blackstone, Hume, or Montesquieu."[5]The Brown Bibliography[6] suggests Wythe owned Œuvres de Monsieur de Montesquieu based on Shippen's reference and the 1767 edition Thomas Jefferson sold to the Library of Congress in 1815.[7] Dean's Memo[8] lists "Montesquieu" under the section of titles Wythe assigned to his students citing a reference in William Clarkin's biography of Wythe.[9] The Wolf Law Library followed Brown's suggestion and purchased the 1767 edition of Œuvres de Monsieur de Montesquieu.
Description of the Wolf Law Library's copy
Bound in full marbled calf. Spines feature five raised bands with gilt decorative compartments and red morocco spine labels. Purchased from Studio Bibliografico Benacense. See this book in William & Mary's online catalog.
References
External Links
Read volume one of this book in Google Books.