Diodōrou tou Sikeliōtou Bibliothēkēs Historikēs ta Sōzomena = Diodori Siculi Bibliothecae Historicae Libri qui Supersunt
From Wythepedia: The George Wythe Encyclopedia
by Siculus Diodorus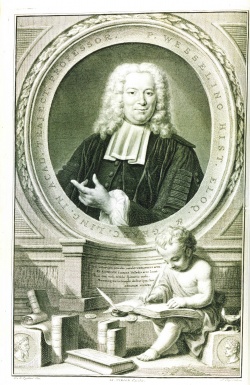 Diodorus
was born in Sicily in the first century BCE, which led to his moniker "Siculus" (of Sicily). He likely began researching his history around 60 BCE when he visited Egypt, yet he traveled to Rome around 56 BCE and stayed there to finish the books. Diodorus knew Latin and had access to many materials while in Rome. He had great respect for
Julius Caesar
, a rising political figure at the time, yet nothing indicates that Diodorus himself had any connection with key Roman players.
[1]

The Greek historian wrote a series of forty books, commonly called The Library about Greece, Sicily and Rome from mythological times to 60BCE. Though some of the books are fully preserved, there are many which remain only in fragments. Diodorus used a variety of sources which sometimes makes his writing confusing, as he uncritically compiled his history of events and stories. However, it is of vital importance for its use, and therefore preservation, of sources.[2]
Evidence for Inclusion in Wythe's Library
Listed in the Jefferson Inventory of Wythe's Library as "Diodorus Siculus. 2.v. fol." and given by Thomas Jefferson to his grandson Thomas Jefferson Randolph. The Brown Bibliography[3] lists the 1746 edition published in Amersterdam based on a Jefferson copy now owned by the University of Virginia. George Wythe's Library[4] on LibraryThing states "Precise edition unknown. Several folio editions were published." The Wolf Law Library followed Brown's recommendation and purchased the edition published in Amsterdam in 1746.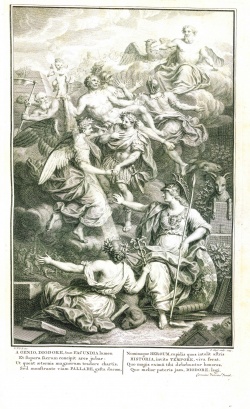 Description of the Wolf Law Library's copy
Bound in sprinkled halfcalf with title labels in leather on backs. Purchased from Lynge & Son.
Images of the library's copy of this book are available on Flickr. View the record for this book in William & Mary's online catalog.
See also
References
External Links
Category:Greek