Wythe to Samuel Tyler, 10 April 1804
From Wythepedia: The George Wythe Encyclopedia
The obverse and reverse of a letter from Wythe to Samuel Tyler, the nephew of John Tyler. Samuel Tyler attended William & Mary and was a member of the Virginia legislature. He later became the chancellor of the Williamsburg district. This is a letter suggesting that an employee of the court have their salary increased.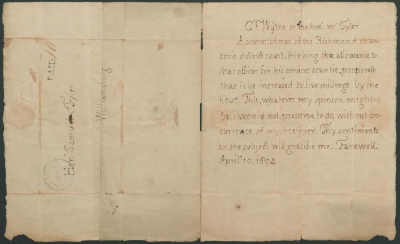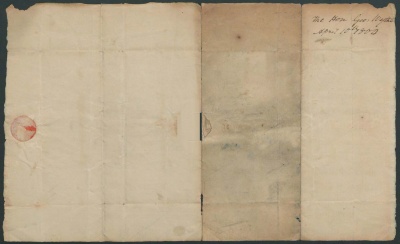 Letter text, 10 April 1804
Page 1
Hon Samuel Tyler

Williamsburg
Page 2
G Wythe to the hon' m' Tyler

A commissioner of the Richmond chancerie district court, thinking the allowance to that officer for his services scantie, proposeth that it be increased to five shillings by the hour. This, whatever my opinion might as be, i would not presume to do, without concurrence of my brethren. Thy sentiments on the subject will gratifie me. Farewell.

April 10, 1804.