Wythe & the Inhabitants of Williamsburg, VA to Benjamin Harrison, July 1783
From Wythepedia: The George Wythe Encyclopedia
The letter is about the proceedings that occurred at a meeting of the inhabitants of Williamsburg and those living within five miles of the city. The Mayor of Williamsburg, William Holt, showed a copy of several resolutions from the General Assembly at the beginning of the meeting. Amongst the resolutions, one of them invited Congress to make Williamsburg their place of residence. The inhabitants of Williamsburg agreed with the resolution and asked that the Governor send both the proceedings of the meeting and the resolution of the General Assembly to Congress. As chairman of the meeting,George Wythe sent a copy of the proceedings to Governor Benjamin Harrison.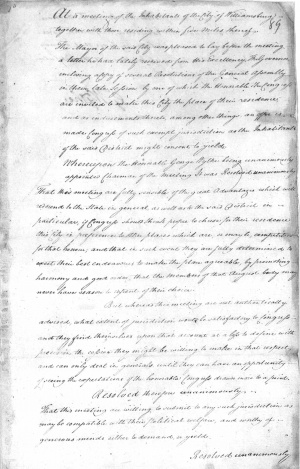 Letter text
Page 1
At a meeting of the Inhabitants of the City of Williamsburg together with those residing within five Miles thereof.

The Mayor of the said City was pleased to lay before the meeting a letter he had lately received from His Excellency, The Governor, inclosing a Copy of several Resolutions of the General Assembly in their late Session by one of which the Honorable the Congress are invited to make this City the place of their residence; and as inducements thereto, among other things, an offer is made. Congress of such exempt jurisdiction as the Inhabitants of the said District might consent to yield.


Whereupon the Honorable George Wythe being unanimously appointed chairman of the Meeting It was Resolved unanimously

That this meeting are fully sensible of the great Advantages which will rebound to the State in general, as well as to the said District in particular, if Congress should think proper to chuse for their residence this City in preference to other places which are, or may be, competitors for that honour; and that in such event they are fully determined to exert their best endeavours to make the place agreeable, by promoting harmony and good order, that the Member of that August body may never have reason to repent of their choice.

But whereas this meeting are not authentically advised, what extent of jurisdiction would be satisfactory to Congress and they find themselves upon that account at a loss to define with precision the cession they might be willing to make in that respect, and can only deal in generals until they can have an opportunity of seeing the expectations of the honorable Congress drawn more to a point.

Resolved therefore unanimously . . .

That this meeting are willing to submit to any such jurisdiction as may be compatible with their political welfare, and worthy of generous minds either to demand, or yield.

Resolved unanimously.
Page 2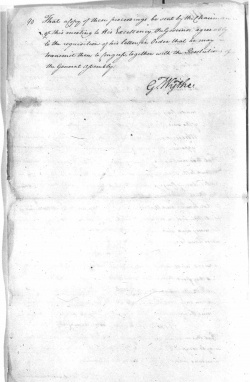 That a Copy of these proceedings be sent by the Chairman of this meeting to His Excellency, the Governor, agreeably to the requisition of his letter, in Order that he may transmit them to Congress, together with the Resolution of the General Assembly.
See also