Upshaw v. Upshaw
From Wythepedia: The George Wythe Encyclopedia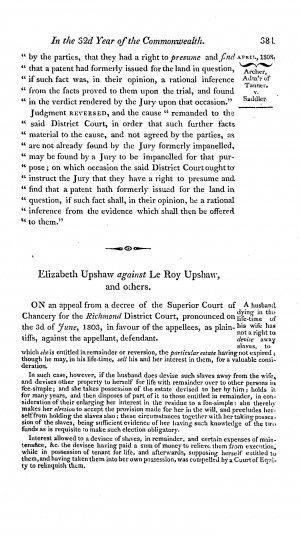 Upshaw v. Upshaw, 12 Va. (2 Hen. & M.) 381 (1808),[1] was a case where the court determined whether a husband could devise away his wife's reversion rights to slaves.
Background
Elizabeth Upshaw was named beneficiary in both her husband and brother's estates. On January 19, 1761, John Hunt, Elizabeth's brother, devised his slaves equally between Elizabeth and their sister Mary Ann Dillard. Two days prior, William Upshaw, Elizabeth's husband, executed his will devising his whole estate to Elizabeth in her widowhood and then to his brother James Upshaw, upon Elizabeth's death. However, the basis of this suit relies on a controversial provision of William's will. In his will, William stated that any slaves given to his wife (Elizabeth Upshaw) by her brother should be devised to his cousin's Leroy, Milley, and John Upshaw and their heirs. Leroy, Milley, and John were the children of Forest Upshaw and half-siblings of John Hunt. In March 1797, the siblings sued Elizabeth Upshaw in the High Court of Chancery to recover the slaves vested to them through William's will. Elizabeth argued that since her husband died before her right of dower expired, his will could not deprive her of the slaves her brother bequeathed to her.
The Court's Decision
On June 3, 1803, Chancellor Wythe declared in favor of the Upshaw siblings. Wythe also decreed the slaves and their profits to the siblings, once they paid Elizabeth one half of the debts still owed for the slaves. The Court of Appeals affirmed in part and reversed in part. The Court reasoned that a husband dying in his wife's lifetime could not devise away slaves she was entitled to through reversion. However, a husband, in his lifetime, could sell his and his wife's interests in the slaves for a valuable consideration.
See also
References
↑ William Hening and William Munford, Reports of Cases Argued and Determined in the Supreme Court of Appeals of Virginia: With Select Cases, Relating Chiefly to Points of Practice Decided by the Superior Court of Chancery for the Richmond District (Flatbush (N.Y.): I. Riley, 1809), 2:381.