Spotswood v. Pendleton
From Wythepedia: The George Wythe Encyclopedia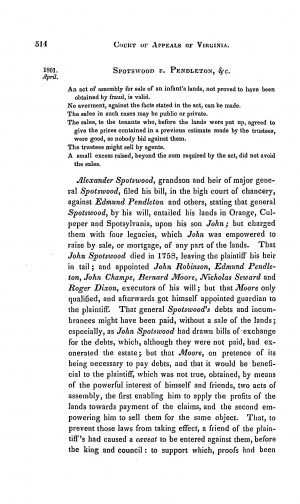 In Spotswood v. Pendleton, 8 Va. (4 Call) 514 (1801),[1] the Court determined whether an act of assembly allowing the sale of infant's land was fraudulent.
Background
Alexander Spotswood, the grandson of Major General Spotswood, sued Edmund Pendleton and other executors in the High Court of Chancery. In his will, Major General Spotswood devised lands in Orange, Culpeper, and Spotsylvania to his son, John Spotswood, in fee tail. The land was placed in four legacy estates and John was empowered to sell or mortgage any part of the land to this effect. In 1758, John died leaving Alexander as his heir in tail. At the time of John's death Alexander was still a minor and Moore, an executor of his father's estate along with Pendleton, was appointed his guardian. Alexander alleged that the executors could have paid Major General Spotswood debts without selling the lands, but used the pretense of paying debts through acts of the legislature to benefit themselves and their friends.
The Court's Decision
Chancellor Wythe dismissed the suit at the cost of the plaintiff. Wythe was of the opinion that sale was not performed fraudulently and that if Alexander had title to the land he claims, the issues should have been pursued in a Court of Common Law and not the Court of Chancery. The Court of Appeals affirmed.
See also
References
↑ Daniel Call, Reports of Cases Argued and Decided in the Court of Appeals of Virginia (Richmond: R. I. Smith, 1833), 4:514.