Pryor v. Adams
From Wythepedia: The George Wythe Encyclopedia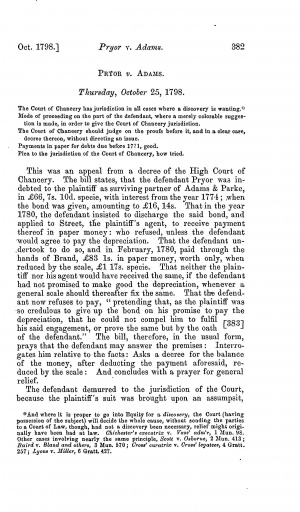 Pryor v. Adams, 5 Va. (1 Call) 332 (1798),[1] was a case where the Court determined whether the Court of Chancery had jurisdiction in cases in need of discovery.
Background
Adams and Pryor were partners of Adams & Parke. Adams, the surviving partner of the company, sued Pryor in the High Court of Chancery for a bond originally worth £16, but at the time of litigation had increased to £66 with interest. Adams alleged that in 1780 Pryor attempted to pay the bond in full. However, Adams refused the payment unless Pryor also paid the depreciation value. Pryor agreed and in February 1780, Pryor paid £83 in paper money, which was only worth £1 specie. Adams argued that since the initial payment, Pryor has refused to pay the subsequent depreciation.
The Court's Decision
On May 17, 1792, the Chancellor Wythe dismissed the bill. However, at the same term, Wythe set aside the decree and directed the issue to trial at the District Court of Richmond to determine, "whether the defendant, at the time the money paid in discharge of the bond in the bill mentioned was received, or after, agreed to allow the depreciation?" The jury found that Pryor had agreed to pay the depreciation before paying the bond. Based on the verdict, Wythe decreed that that Pryor pay £66 with interest. The Court of Appeals decreed that the May 1792 hearing that dismissed the bill, was proper decision and reversed in Pryor's favor.
See also
References
↑ Daniel Call, Reports of Cases Argued and Adjudged in the Court of Appeals of Virginia, (Richmond: A. Morris, 1854), 1:332.