Perkins v. Saunders
From Wythepedia: The George Wythe Encyclopedia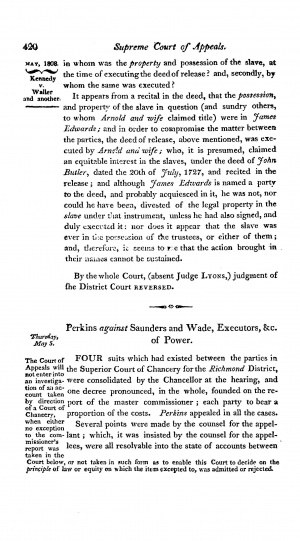 Perkins v. Saunders, 12 Va. (2 Hen. & M.) 420 (1808),[1] was a brief case were the Court of Appeals analyzed Chancellor Wythe's reliance on commissioners to determine his decrees.
Background
Perkins and Saunders had four suits pending against each other in the High Court of Chancery. Chancellor Wythe consolidated the suits in a hearing and dismissed the cases decreeing that each party should bear their own court costs. In his decree, Wythe relied heavily upon a report given to him by the master commissioner. On this point Perkins appealed to the Court of Appeals. Perkins argued that the commissioner's report was greatly flawed and posed the question to the Court of appeals as to how far the Court could investigate Wythe's reliance on the report of a commissioner.
The Court's Decision
The Court of Appeals affirmed Chancellor Wythe's decision. The Court determined it would investigate of an account directed by the Court of Chancery. The Court also decreed that it would only look into the commissioner's report if a party requested Wythe grant an exception to the report. Even in this instance, the Court determined it would only inquire whether Wythe's granting or rejecting of an exception was equitable or legal.
See also
References
↑ William Hening & William Munford, Reports of Cases Argued and Determined in the Supreme Court of Appeals of Virginia: with Select Cases, Relating Chiefly to Points of Practice, Decided by the Superior Court of Chancery for the Richmond District (Flatbush, N.Y.: I. Riley, 1809), 2:420.