Nomotexnia Cestascavoir, Un Description del Common Leys Dangleterre Solonque les Rules Del Art: Parallelees ove les Prerogatives le Roy. Ovesque Auxy le Substance & Effect de les Estatutes (Disposes en Lour Proper Lieux) per le Quels le Common Ley est Abridge, Enlarge, ou Ascunment Alter, del Commencement de Magna Charta fait 9. H.3. Tanque a Cest Jour
From Wythepedia: The George Wythe Encyclopedia
by Sir Henry Finch
Nomotexnia

Title page from Nomotexnia, George Wythe Collection, Wolf Law Library, College of William & Mary.

Author
Sir Henry Finch
Editor
{{{editor}}}
Translator
Published
London: Printed [by Adam Islip] for the Societie of Stationers
Date
1613
Edition
Language
{{{lang}}}
Volumes
volume set
Pages
[6], 22, [9], 23-149, [1] leaves
Desc.
{{{desc}}}
Location
[[Shelf {{{shelf}}}]]
 
[[Shelf {{{shelf2}}}]]
Sir Henry Finch (c.1558-1625) was born in Kent and was raised in part by his Puritan step-father Nicholas St Leger, who's religious and perhaps political influence can be seen in Finch's later life and pursuits.[1] Finch received a B.A. from Christ's College, Cambridge and completed his first written work there.[2] He soon entered Gray's Inn and began work on Nomotexnia, which he later expanded.[3]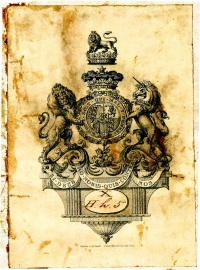 He consistently arbitrated various matters beginning in 1593.[4] During his service in Parliament he was known as an active committeeman, and a leading puritan spokesman.[5] He opined on such matters as the evils of vagrants.[6] His career also included his call to the bench of Gray's Inn in 1604, and his involvement with the commission of the peace for Canterbury in 1608.[7]

While at Gray's Inn, Finch's studies "led to the composition (c.1585) of Nomotexnia, a brief but ambitious treatise which sought to systematize English common law along Ramist lines, as well as bringing it into closer conformity with the laws of Moses."[8] In 1613, Finch expanded his earlier text and published Nomotexnia; Cestascavoir: Un Description del Common Ley Dangleterre Solonque les Rules del Art, a law French folio in four volumes which eliminated "explicit reference to remodeling English law along Mosaic lines."[9] Finch died of the plague in Boxley in October, 1625.[10]

Finch was recognized soon after his death as a learned man in the law, a linguist, and a scholar.[11] In the following century he was recognized by legal authority Blackstone as having methodically organized the previously chaotic elements of the law in to a science.[12]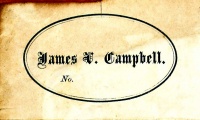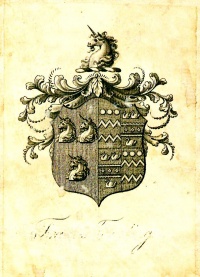 Evidence for Inclusion in Wythe's Library
Thomas Jefferson quoted this specific edition in his commonplace book but no evidence exists that he ever owned a copy.[13] The commonplace entry most likely dates from his period as Wythe's student when Jefferson had ready access to Wythe's library.
Description of the Wolf Law Library's copy
Bound in early calf, boards embossed with arabesqes. Rebacked and recornered in sheep, with remnants of the earlier back laid down. Purchased from Nostre Livers.

View this book inWilliam & Mary's online catalog.
References