The National Cyclopædia of American Biography
From Wythepedia: The George Wythe Encyclopedia
"Wythe, George," The National Cyclopædia of American Biography, (New York: James T. White, 1893), 3:308-309.[1]
Article text
Page 308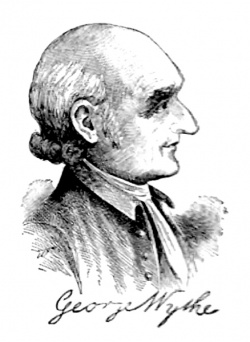 WYTHE, George, signer of the declaration of independence, was born near Hampton, Elizabeth City, Va., in 1726. He learned little at school, but was well taught by his mother. Orphaned and wealthy before he came of age, he gave way to the temptations of youth, but at thirty suddenly changed his way of life, and from that time maintained the highest character. He was admitted to the bar in 1757, where he soon gained a high position. From 1758 he was a member of the house of burgesses, and in November, 1764, was one of a committee to draw up a petition to George III. and remonstrances to the two houses of parliament with reference to the threatened stamp act. Wythe prepared the paper intended for the commons in so plain and strong a manner that it required much toning down before it could be adopted and used. As war approached, he was among the foremost to rouse a spirit of resistance, joining, for a time, a body of volunteers. But his services were more needed in the council than in the field, and in August, 1775, he was sent to the Continental congress, where he sat for two years. Here he broke with the crown as well as with parliament in February, 1776, and in July was prompt to sign the declaration of independence. In November, 1776, he was appointed, with Jefferson, Pendleton, and two others who did not act, to revise the Virginia laws, in view of the change from a colony to a state. In June, 1779, this committee reported 126 bills. In 1777 he was made speaker of the house of delegates and a judge of the court of chancery. From 1776 to 1789 he held the chair of law at the College of William and Mary. When his court was reorganized in 1786, he became the sole chancellor of the state. He was a member of the convention which framed the federal constitution in 1787. and the next year of the Virginia convention, which ratified it. He was the first judge to decide, against much popular clamor, that British claims for debts contracted by Americans before the war were recoverable, displaying in this action "scrupulous impartiality and rigid justice." He received the degree of LL.D. from William and Mary in 1790. His "Decisions" appeared in 1795, the second edition of which, published in 1852, has a memoir of him by B. B. Minor. He was much beloved by his law pupils, among whom were two presidents and Chief Justice Marshall; Henry Clay, for four years clerk of his court, was also indebted to him for many kindnesses. He was quick to note "the latent powers of great men, and help them to great careers;" his benevolence, sweetness of temper, and simplicity of character, were as notable as his rigid integrity, legal learning, and proved ability. In later life he freed his slaves and provided for them. Jefferson, his pupil and friend, began a sketch of Judge Wythe, which was used in Sanderson's "Biography of the Signers." His powers were unimpaired, and he was still chan-
Page 309
cellor when he died by poison at Richmond June 8, 1806. A nephew was tried for the murder and acquitted.
See also
References
↑ "Wythe, George," The National Cyclopædia of American Biography, Being the history of The United States as Illustrated in the Lives of the Founders, Builders, and Defenders of the Republic, and of the Men and Women who are Doing the Work and Moulding the Thought of the Present Time, (New York: James T. White, 1893), 3:308-309.
External links
Read this book in Google Books.