Loukianou Samosateōs Hapanta
From Wythepedia: The George Wythe Encyclopedia
Loukianou Samosateōs Hapanta = Luciani Samosatensis Opera
by Lucian of Samosata
Loukianou Samosateōs Hapanta

Title page from Loukianou Samosateōs Hapanta, volume one, George Wythe Collection, Wolf Law Library, College of William & Mary.

Author
Lucian of Samosata
Editor
Tiberius Hemsterhuis (volume one only) and Johan Frederik Reitz
Translator
{{{trans}}}
Published
Amstelodami: Sumptibus J. Wetstenii
Date
1743
Edition
{{{edition}}}
Language
Greek and Latin in parallel columns
Volumes
3 volume set
Pages
{{{pages}}}
Desc.
Folio (28 cm.)
Location
[[Shelf {{{shelf}}}]]
 
[[Shelf {{{shelf2}}}]]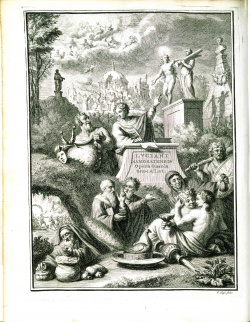 Lucian
(125-180 CE) was a well-known ancient Greek rhetorician and satirist. As a child, Lucian was apprenticed to his uncle to begin a career as a sculptor.
[1]
Their relationship was strained, and Lucian eventually left his home and his apprenticeship.
[2]
He acquired a Greek literary education in western Asia Minor and applied it towards a career as a public speaker when he eventually returned to Greece.
[3]

Though a successful rhetorician, Lucian became disenchanted with his career and gave up public speaking to write critical and satirical essays. These essays catapulted Lucian into fame and continue to serve as the basis for his lasting legacy.[4]

Lucian satirized a wide variety of topics; He particularly favored satirizing the fantastical tales that were common during the era in which he lived. He even mocked the incredulous journey that the protagonist Odysseus experienced in Homer's Odyssey.[5] Lucian was also highly critical of the intellectual institutions of his time, and frequently satirized the hypocrisy of philosophers.[6] Not even the Greek gods were safe from Lucian's mockery, and he repeatedly satirized the popular stories of the gods dealings with mortals.[7]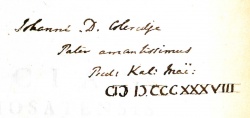 Evidence for Inclusion in Wythe's Library
Listed in the Jefferson Inventory of Wythe's Library as Luciani opera. Gr. Lat. Gesneri. sholiis et notis 3.v. 4to. Amst. 1743 and kept by Thomas Jefferson. Jefferson later sold the same title to the Library of Congress in 1815. The copy still exists and includes manuscript notes attributed to Wythe by E. Millicent Sowerby.[8] Both the Brown Bibliography[9] and George Wythe's Library[10] on LibraryThing list the 1743 Amsterdam edition, and the Wolf Law Library purchased a copy of the same edition.
Description of the Wolf Law Library's copy
Bound in contemporary vellum, raised bands, spines in seven panels with author label to second panel and volume label to third. Covers with double fillet border with an inner double fillet frame with a central arabesque in all blind. Includes the inscription "Johanni D. Coleridge, Pater amantissiumus Pred: Kal: Mai: MDCCCXXXVII" on the front free endpaper of volume one and the inscription "J. D. Coleridge, Eton Coll., May 1848" on the front free endpapers of volumes two through four. Set includes Index Verborum ac Phrasium Luciani, sive Lexicon Lucianeum by Carolus Conradus Reitzius (Trajecti ad Rhenum: H. Besseling, 1746) as volume four. Purchased from Temple Rare Books.
View this book in William & Mary's online catalog.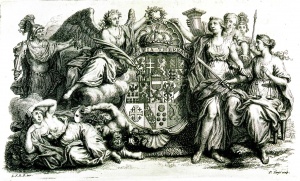 References