Justini Historiæ Philippicæ
From Wythepedia: The George Wythe Encyclopedia
by Marcus Junianus Justinus
Justini Historiæ Philippicæ

Title page from Justini Historiæ Philippicæ, George Wythe Collection, Wolf Law Library, College of William & Mary.

Author
Justin
Editor
Translator
Published
Amsterodami: Apud Henricum Wetstenium. & Trajecti ad Rhenum apud Guillelmum van de Water.
Date
1694
Edition
Editio accuratissima
Language
Latin
Volumes
volume set
Pages
[26], 378, [130]
Desc.
12mo ( cm.)
Location
Shelf J-4
 
[[Shelf {{{shelf2}}}]]
Marcus Junianus Justinus was a Roman historian.[1] He most likely lived during the third century A.D.,[2] though he may have lived as early as the second and as late as the fourth century A.D.[3] His Historiae Philippicae (Philippic Histories) is an abridgement of a longer work of the same title by Trogus Pompeius, of which only the table of contents survives.[4]
Trogus, a Roman historian who lived during the reign of Augustus (27 B.C.—19 A.D.), was the author of a 44-book history on "the origin, progress, decline, and extinction of the Macedonian monarchy," with an emphasis on the accomplishments of Philip II and Alexander the Great.[5] His Historiae Philippicae also included multiple digressions, and is sometimes referred to as a universal history.[6]
Justinus's abridgement is comprised of probably unaltered excerpts from the original work, connected by "colorless" summaries.[7] In all, it preserves one-sixth of Trogus's history, as well as the prologi, or summaries of the books.[8]
Justinus's Historiae Philippicae was popular during the Middle Ages,[9] and over 200 manuscripts survive from that era.[10] It remains useful today, especially in the absence of the original, longer work, for the information it provides on the "history of the Macedon and Hellenistic kingdoms."[11]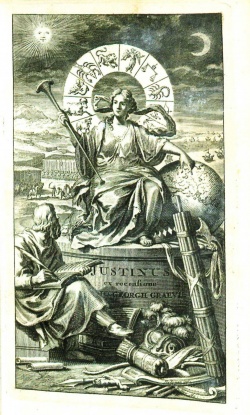 Evidence for Inclusion in Wythe's Library
Listed in the Jefferson Inventory of Wythe's Library as "Justin. 12mo." Thomas Jefferson gave Wythe's copy to his grandson Thomas Jefferson Randolph. The precise work and edition owned by Wythe are unknown. George Wythe's Library[12] on LibraryThing lists D. Justiniani Institutionum libri quatuor — a version of the Institutes of Justinian — and indicates the edition is unknown. The Brown Bibliography[13] includes instead a 1672 edition of Justini Historiæ Philippicæ published in Amsterdam based on a copy owned by Jefferson. The Wolf Law Library agreed with Brown's choice of Justinus for this entry in Jefferson's inventory. Wythe owned a wide selection of classical authors and, logically, he would have owned a copy of Justini Historiæ Philippicæ. Also, Wythe owned other copies of Justinian's Institutes which Thomas Jefferson inherited, including D. Justiniani Institutionum libri quatuor. Jefferson listed that title in his inventory as "[H]arris's Justinian. 4to.", spelling out Justinian completely. He also gave Wythe's Roman law books to James Dinsmore, while the majority of Wythe's classical histories went to Thomas Jefferson Randolph, the recipient of "Justin. 12mo."
Because we do not know which edition of Justini Historiæ Philippicæ Wythe owned, the Wolf Law Library purchased an available version published in Amsterdam in 1694.
Description of the Wolf Law Library's copy
Bound in contemporary full sprinkled calf, decorative gilt spine with five raised bands and black label.
Images of the library's copy of this book are available on Flickr. View the record for this book in William & Mary's online catalog.
See also
References