Dionysiou Halikarnasseōs Peri Syntheseōs Onomatōn = Dionysii Halicarnassei De Structura Orationis Liber
From Wythepedia: The George Wythe Encyclopedia
by Dionysius of Halicarnassus
Dionysiou Halikarnasseōs Peri Syntheseōs Onomatōn

Title page from Dionysiou Halikarnasseōs Peri Syntheseōs Onomatōn, George Wythe Collection, Wolf Law Library, College of William & Mary.

Author
Dionysius of Halicarnassus
Editor
{{{editor}}}
Translator
{{{trans}}}
Published
Londini: Impensis R. Knaplock, in Cœmeterio Paulino
Date
1728
Edition
{{{edition}}}
Language
Latin
Volumes
{{{set}}} volume set
Pages
263, 43 p.
Desc.
8vo (23 cm.)
Location
[[Shelf {{{shelf}}}]]
 
[[Shelf {{{shelf2}}}]]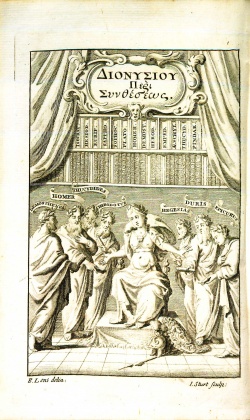 Dionysius of Halicarnassus
(60 BCE–7 BCE) was a Greek historian and an instructor in the art of rhetoric. Dionysius moved to Rome in 30 BCE and spent twenty-two years studying the Latin language and preparing materials for his history.
[1]
In addition to dedicating time to his own studies, he also gave lessons in rhetoric.
[2]
Rhōmaïke Archaiologia
(
Roman Antiquities
) consisted of twenty carefully researched books
[3]
and is considered to be one of the most valuable sources of early Roman history.
[4]
Even though some critics consider Dionysius to be a mediocre historian, many agree that he was an exceptional literary critic who was proficient at examining an author's style and historical context.
[5]
In addition to authoring his extensive history of Rome, Dionysius also wrote essays on a variety of topics. This work, "Peri syntheseos onomaton," is the only surviving ancient discussion of word order.
[6]
Evidence for Inclusion in Wythe's Library
Listed in the Jefferson Inventory of Wythe's Library as Dionysius Halicarnasseus. and given by Thomas Jefferson to his grandson Thomas Jefferson Randolph. The Brown Bibliography[7] lists the 1615 Hanover edition of Dionysii Halicarnassei Scripta qvæ extant Omnia based on one of the copies Jefferson sold to the Library of Congress.[8] George Wythe's Library[9] on LibraryThing states "Precise work/edition unknown." Unable to verify a specific title or edition, the Wolf Law Library purchased Dionysiou Halikarnasseōs Peri Syntheseōs Onomatōn when a copy became available.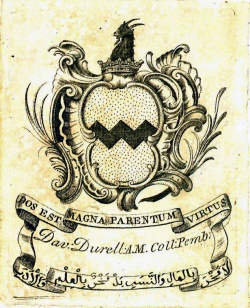 Description of the Wolf Law Library's copy
Bound in contemporary full roan with red morocco label on gilt-decorated spine. Includes the armorial bookplate of "Dav. Durrell, A.M. Coll. Pemb." with the motto "Dos est magna parentum virtus" (The virtue of parents is a great dowry" (Horace)) on the front pastedown. A second motto is written on the printed bookplate in Arabic: "لا فخر بالمال والنسب بل فخر بالعلم والأدب" (Nobleness is not in wealth and lineage, rather nobleness is in knowledge and culture). The rear pastedown includes the inscription "Prosperum felix sellus virtus appellatur." Purchased from Rulon-Miller Books.

View the record for this book in William & Mary's online catalog.
References