Daniel Call
From Wythepedia: The George Wythe Encyclopedia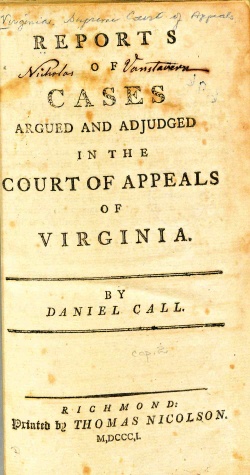 Daniel Call (1765 – 1840), an attorney and law reporter, was most likely born in Prince George County, Virginia to William Call, a county lieutenant during the American Revolution.[1]Although not much is known about his early life or education, Call studied law under George Wythe during the 1780s and began his practice in Petersburg.[2]In 1787, he married Elizabeth Taliaferro, George Wythe's niece. She died in 1793, shortly after the birth of their first child, Anne.[3]
Call moved to Richmond in 1791 to begin an appellate practice, primarily in real estate and equity.[4] He quickly gained the respect of his colleagues and clients as a "knowledgeable, skilled, and tenacious advocate" and joined the top ranks of the city's legal profession.[5] In 1797, Call married Lucy Ambler, the sister-in-law of his friend and colleague, John Marshall.[6] Call shunned politics and chose to remain in Richmond, taking over the practices of John Marshall and Bushrod Washington when they were appointed to the United States Supreme Court.[7] Ideologically, Call sided with the Federalists.[8] In the election of 1832, he supported Henry Clay and opposed Andrew Jackson.[9]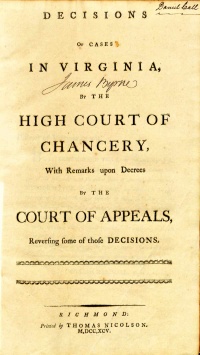 Call is best known as a reporter of Virginia cases.[10] His six-volume work compiled reports of cases prior to 1820, as Virginia did not have an official reporter in this time period.[11] In creating the reports, Call relied upon a variety of documents and performed the difficult task of turning them into a workable precedent.[12] Call dedicated his first volume to George Wythe, his second to Edmund Pendleton, and the last to all of the judges of the Court of Appeals.[13] The fourth volume of the second edition contains Call's biography of Wythe.[14]
Call died on May 20, 1840 and was buried in Richmond next to his lifelong friend, John Marshall.[15] His works have been extensively reprinted, and they remain an authoritative source for Virginia law.[16]
See also
References