Cary v. Buxton
From Wythepedia: The George Wythe Encyclopedia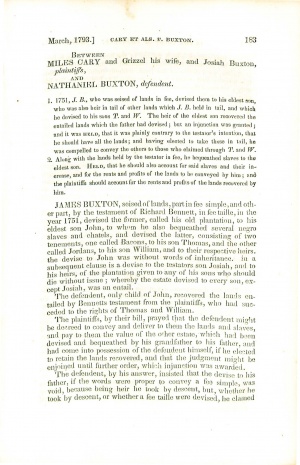 , in
Decisions of Cases in Virginia by the High Court of Chancery, with Remarks upon Decrees by the Court of Appeals, Reversing Some of Those Decisions
, by George Wythe. 2nd ed. (Richmond: J. W. Randolph, 1852).]]
Cary v. Buxton, Wythe 183 (1793),[1] involved a dispute over distributing an inheritance. In his decision, Wythe refers to several contemporary and classical sources for examples of amending or voiding a will to match the deceased's inferred intent.
Background
James Buxton owned land called "Old Plantation" in fee simple.[2] In his will and testament, he gave Old Plantation to his eldest son John, along with several slaves.
James also owned two other properties, called Bacons and Jordans, that he inherited from Richard Bennett in fee tail.[3] A later clause in James's will awarded Bacons to his son Thomas and Thomas's heirs, and gave Jordans to James's son William and William's heirs.
Another clause in James's will said that all the property he gave his sons, except for Josiah, was in fee tail. The will said that Josiah and Josiah's heirs would get the parts of the plantation that were given to any of James's sons who died without an heir.
Nathaniel Buxton, the defendant, was John's only child.
Miles Cary and his wife Grizzel[4] were the plaintiffs, along with Josiah. The Carys and Josiah inherited Thomas's and William's land rights.
Nathaniel had inherited Old Plantation and the slaves who went with it from John, and had recovered Bacons and Jordans from the Carys and Josiah.[5] The plaintiffs filed a bill with the High Court of Chancery saying that if Nathaniel wanted to keep Bacon and Jordans, the plaintiffs wanted the Chancery Court to force Nathaniel to give them Old Plantation and the slaves whom James left to John, and compensate them for the value of Bacons and Jordans.
Nathaniel answered that he had inherited Old Plantation by descent, making any language in James's will about inheriting by fee tail void. Nathaniel said he had the rights to Old Plantation, Bacons, and Jordans, regardless of whether by descent or in fee tail, but if he could only pick between the two gifts, he wanted to keep Bacons and Jordans. Nathaniel said that some of the slaves John inherited from James were dead, Nathaniel had sold one, and the rest escaped to the British during the Revolution.
The Court's Decision
On March 2, 1793, the High Court of Chancery ordered Nathaniel to turn over Bacons and Jordans to the Carys and to Josiah. Wythe said that there is a presumption that James wanted the inheritance split among his heirs. Had James known that John's heirs would eventually also get hold of the inheritance James left for Thomas and William, Wythe argued, James would have found some way for Thomas's and William's heirs to be compensated from John's inheritance. Wythe amended James Buxton's testament so that Thomas and William and their heirs inherited "Old Plantation" in fee simple.
Wythe cited several examples from contemporary and classical sources of situations in which similar amendments to testaments were made to conform to the deceased's presumed wishes, and situations in which testaments were completely voided if they were found contrary to the deceased's presumed wishes. Among the sources Wythe referred to were the Digest of Justinian and the Institutes of Justinian, Quintilian, Cicero's oratories, Gilbert's Reports of Cases in Equity, Valerius Maximus, and Lord Home's Principles of Equity.
The Chancery Court ordered Nathaniel to turn over one half of Old Plantation to the Carys, and the other half to Josiah. The Court also ordered Nathaniel to turn over the remaining slaves from the inheritance to the plaintiffs, and to account for the slaves John had inherited as well as the rents and profits since December 31, 1770, from Old Plantation, Bacons, and Jordans.
References