Bill for Statue for General Washington at Williamsburg
From Wythepedia: The George Wythe Encyclopedia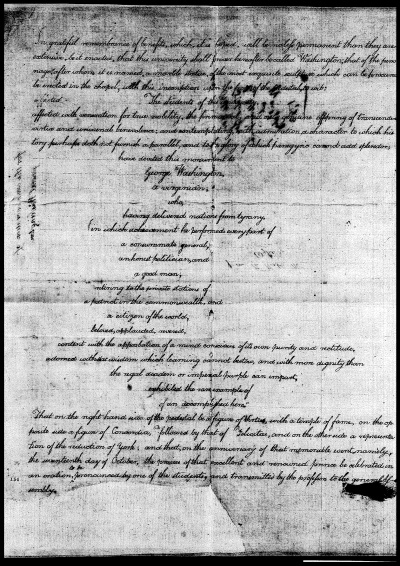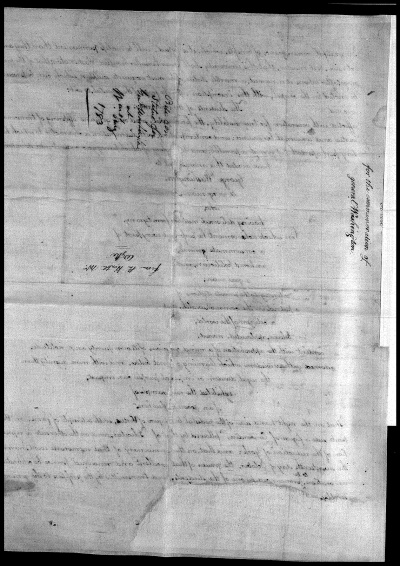 In a bill to the Virginia General Assembly in 1783, George Wythe proposes erecting a statue of General George Washington in the chapel of the Wren Building at the College of William & Mary, and provides a design and suggested inscription. Wythe also proposes renaming the College to "Washington University" in his honor.[1] The manuscript is endorsed by Wythe on the reverse as "[An Act] for the commemoration of general Washington."
No statue appeared at the College, and it is unknown if the bill was ever introduced. A marble statue of Washington was commissioned for the Capitol in Richmond in 1784, sculpted by Jean-Antoine Houdon of France, and delivered in 1796.
Manuscript text, 1783
Page 1
In grateful remembrance of benefits, which, it is hoped, will be moreso permanent than they are extensive, be it enacted, that this university shall from hereafter be called Washington; that of the personage after whom it is named, a marble statute, of the most exquisite sculpture which can be procured, be erected in the chapel, with the inscription upon the foot of the pedestal, to wit:

The students of this university,

affected with veneration for true nobility, the primordial and only genuine offspring of transcendent virtues and universal benevolence; and contemplating, with admiration, a character to which history perhaps doth not furnish a parallel, and to the glory of which panegyric cannot add splendor;

have devoted this monument to
George Washington, a virginian,
who,
having delivered nations from tyranny,
in which achievement he performed every part of
a consummate general
an honest politician and
a good man
retiring to the private stations of
a patriot in the commonwealth, and
a citizen of the world,
beloved, applauded, revered,
content with the approbation of a mind conscious of its own purity and rectitude,
adorned with that wisdom which learning cannot bestow, and with more dignity than
the regal diadem or imperial purple can impart,
exhibited the rare example of
an accomplished hero."


That on the right hand side of the pedestal be a figure of Virtus, with a temple of fame, on the opposite side a figure of Concordia, followed by that of Felicitas, and on the other side a representation of the reduction of York; and that, on the anniversary of that memorable event, namely the seventeenth day of October, the praises of that excellent and renowned prince be celebrated in an oration, to be pronounced by one of the students, and transmitted by the professors to the general assembly.
Page 2
An Act[?]
for the commemoration of
general Washington


Bill for
statue for
Genl. Washington
at
Wmsburg
1783


from the Honble. Mr.
Wythe
References
↑

George Wythe, "Bill for Statue for General Washington at Williamsburg, 1783," Breckinridge Family Papers, 1752-1965, Library of Congress, Washington, D.C.