Archæologia Græca
From Wythepedia: The George Wythe Encyclopedia
by John Potter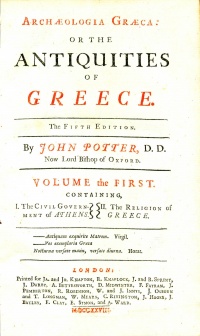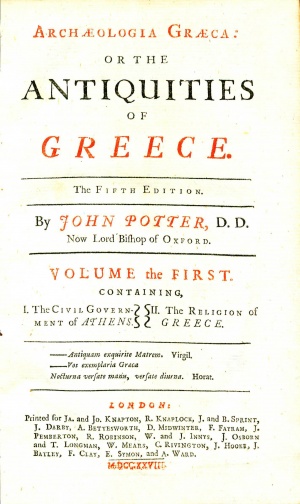 Bibliographic Information
Author: John Potter
Title: Archæologia Græca: or, The Antiquities of Greece.
Publication Info: London: Printed for J. Knapton, R. Knaplock, J. and B. Sprint, D. Midwinter, A. Bettesworth, R. Robinson, W. and J. Innys, J. Osborne, T. Longman, W. Mears, and A. Ward, 1728.
Edition: Fifth edition.
Evidence for Inclusion in Wythe's Library
Description of the Wolf Law Library's copy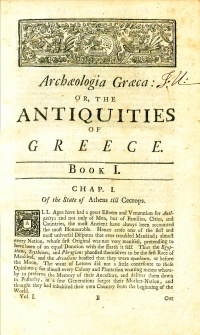 Bound in contemporary tooled paneled calf with red calf spine labels and the title page printed in red & black. Contains 31 copper engraved plates and a dollop of impressed red sealing wax on each front pastedown. Purchased from Kenneth Karmiole, Bookseller, Inc.
View this book in William & Mary's online catalog.
External Links
Volume 1:Google Books
Volume 2:Google Books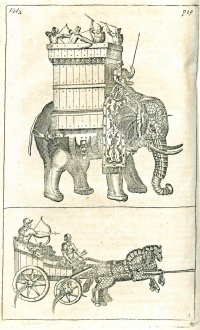 References