Anti-Slavery Petition of 1795
From Wythepedia: The George Wythe Encyclopedia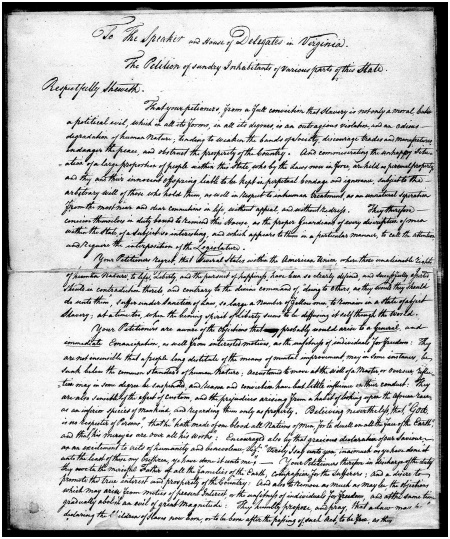 A petition by "sundry inhabitants" of Virginia, presented to the House of Delegates in Richmond, Virginia on November 16, 1795, declaring the evils of the institution of slavery.[1] Not going so far as to demand immediate emancipation, the petitioners request a law be passed restricting "inhuman treatment" of slaves, and guaranteeing the freedom of children born to slaves after the law is enacted.[2]
The reading of the petition before the Virginia legislature was recorded in the House Journal:
A petition of sundry inhabitants of various parts of this state, whose names are thereunto subscribed, was presented and read, setting forth, that they consider slavery not only a moral but a political evil, which in all its forms, and degrees, is an outrageous violation and odious degradation of man, tending to weaken the bands [sic] of society, and endanger the peace and obstruct the prosperity of the country; and praying that an act may pass to ameliorate the present condition of slaves, and give freedom to such as shall be born after the passing of the said act.

Ordered, That the said petition be referred to a committee of the whole House, on the 31st day of March next.[3]
There are 393 petitioners named, including John Marshall, William DuVal, and George Wythe. The list is all in one handwriting without individual signatures, and the preserved petition displayed here may be a copy. There was no result recorded with the Virginia legislature from this petition, and no action taken.[4]
Text of the petition, 16 November 1795
Page 1
To The Speaker and House of Delegates in Virginia.
The Petition of sundry Inhabitants of various parts of this State.
Respectfully Sheweth.
That your petitioners, from a full conviction that slavery is not only a moral but a political evil, which in all its forms, in all its degrees, is an outrageous violation and an odious degradation of human nature, tending to weaken the bonds of society, discourage trades and manufactures, indanger the peace and obstruct the prosperity of the country. And commiserating the unhappy situation of a large proportion of people within this state who by the Laws now in force, are held as personal property and they and their innocent offspring liable to be kept in perpetual bondage and ignorance, subject to the arbitrary will of those who hold them, as well in respect to inhuman treatment, as in unnatural separation from the most near and dear connections in life without appeal and without redress. They therefore conceive themselves in duty bound to remind this House as the proper guardians of every description of men within the State of a subject so interesting, and which appears to them in a particular manner, to call the attention and require the interposition of the Legislature.
Your Petitioners regret that several States within the American Union where these unalienable rights of human nature to life, liberty, and the pursuit of happiness have been so clearly defined and successfully assured, should in contradiction thereto and contrary to the divine command of, "doing to others as they would they should do unto them," suffer under sanction of Law so large a number of fellow men to remain in a state of abject slavery; at a time too, when the burning spirit of liberty seems to be diffusing itself through the world.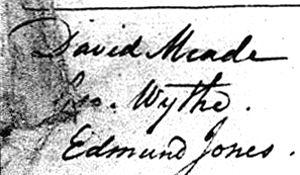 Your Petitioners are aware of the objections that probably would arise to a general and immediate Emancipation, as well from interested motives, as the unfitness of individuals for freedom: They are not insensible that a people long destitute of the means of mental improvement may in some instances be sunk below the common standard of human nature; accustomed to move at the will of a master or overseer, reflection may in some degree be suspended and reason and conviction have but little influence on their conduct; They are also sensible to the effect of custom, and the prejudices arising from a habit of looking upon the African race as an inferior species of mankind, and regarding them only as property. Believing nevertheless that, "God is no respecter of persons," that he "hath made of one blood all Nations of men, for to dwell on all the face of the Earth," and that, "his mercies are over all his works;" Encouraged also by that gracious declaration of our Saviour as an excitement to acts of humanity and benevolence, Vizt. "Verily I say unto you inasmuch as ye have done it unto the least of these my brethren, ye have done it unto me." Your Petitioner therefore in discharge of the duty they owe to the merciful Father of all the families of the Earth; compassion for the sufferers; and a desire to promote the true interest and prosperity of the Country; and also to remove as much as may be the objections which may arise from motives of present interest or the unfitness of individuals for freedom, and at the same time gradually abolish an evil of great magnitude: They humbly propose, and pray that a law may be [passed] declaring the children of Slaves now born or to be born after the passing of such an Act, to be made free, as they [come to proper]
Page 2
ages to [enjoy] their instruction to Read &c. and to invest them with suitable privileges as an excitement to become useful citizens; and also to restrain the holders from inhuman treatment of those who may remain in Bondage. Or that the House may grant such other relief as in its wisdom may seem meet.


David Meade
Geo. Wythe
Edmund Jones
John Cringan
Robert Turnbull
William Richardson
Samuel Couch
Augustine Davis
Joseph Harding
Benja. [Rufred?]
Thos. T. Bates
Joseph A. Myers
Reuben Harrison
James Wright
George Wills
John Bryan
Andrew Thaklin
[Thelin?] Sheltman
Peter Kelly
John Ferguson
[Obscured]
Jas. Moore
Nicholas Walder
George Wymer
Joseph Pinnell
Joseph Porter
Benja. Wall
Reuben Finnell
James Moore
Carr Waller
John Parrish
Wm. Ratcliff
Wm. Shelburn
Lewellin Spencer
Wm. Weathers
Charles Talley
Saml. Gover
[Barenil?] Hough
Thomas Moore
Joseph Fisher
[Obscured] Ratikin
[Obscured] Canby
[Obscured] Cavan

John Harvie
Charles W. Byrd
John Pleasant
John Carew Jur.
John McClurg
Frederick Argyle
J. Darmdale
J. Heron
Thos. Barnett
John Lyre
Archd. Pleasant
Hugh French
John Welch
Ferdinand Lair
Jacob Chauster
Jarold Wiseman
Robt. Rutherford
James Brown
John Deaning
Saml. Myer
[Obscured]
George [Hir?]
Shepherd Collins
Charles Bodkin
James Pinnell
William Gains
William Wright
Wm. Keyes
S.D. Haricman
Lawrence Manfield
John Dickerson
Manfield B. Wood
Richard Rix
Benja. Brown
Jade Williams
Thoj. Crenshaw
Wm. Mitchener
Saml. Murray
Isaac Thompson
George Gregg
Joseph Talbot
Jonas Potts
James Hamilton

James Warrington
William DuVal
John Stagg
Geo. Clopton
John Stewart
Robert McCartney
J. Pryor
Wm. Fontaine
Hale Sharp
John Andrews
Joseph Woodson
Thomas Wafford
Joseph Mitter
Frederick Honaker
Wm. Bryan
Joseph Lair
Elliot Rutherford
Gordon Rogers
Enos [Dorinis?]
George Murray
Lewis Stephens
John Robertson
Samuel Weeks
Enos Tail
Benja. Pinnell
Richard Parks
John Hutt
David Robinson
Eskridge Hall
John Stevens
George Arnold
John Saunders
Edmond Cole
Wm. Ellis
Edward Wilkinson
Willm. Clayton
Joseph Smith
Joseph Jenny
Wm. Barnes
Isaac Siddal
Thomas Smith
Samuel Thompson
Saml. Donahue

Jams. Tyler
Anthy. Singleton
Robt. Pleasants Jur.
John Marshall
William Dabney
Jackson Frayser
Saml. Parsons
Alexr. Buchanan
Ebenezar Maul
Daniel Butter
David Bullock
Wm. McKee
Andrew Muirhead
Michael Bachar
Cornelius Bryan
William Gray
Archer Rutherford
Josiah Shipman Jur.
John Stephen
John J. Woodcock
Lewis Stephens Jur.
Reuben Moore
John Weeks
John Hickman
Willm. Pinnell
Byron Mcgreath
Thomas Benton
Peter Harrison
Reuben Hrother
David Richardson Jr.
Edward T. Rowgee
John Roper
Thos. Cowler
John Pierce
James Hill
Wm. Stabler
Francis Hague
Mahlon Jenny
Thomas Mason
John Hough
John Hollingsworth
Wm. Aniby
Seven Powell  Wm. Hartshorn

Alexander Campbell
Henry Heth
James Binford
Benja. Lewis
William Lawrence
Joseph Butter
Thos. Nicholson[5]
Adam Craig
B. Rawlings
Thomas Carneal
Matthew Woodson
Wm. Hughes
Stephen Ruddill
Richd. Hughes
Morgan Bryan
Michael Waring
William Dunnavan
J. Shipman Senr.
Jacob Myer
B. Selden
John [Bates?]
John Hickman
Saml. Jenkins
Jas. Saml. Wright
Danl. Field
John Thornhill
James Robertson
Thos. Maddox
Wm. Thomas
John West
Richard Pope
John Gadbury
Henry Cowler
Walter Hopkins
Francis Lennard
Joseph Beale
Isaac Harris
Saml. Haugh
John Hirsh
Wm. Hough
Joseph Wood
Nathaniel Stephens
Abraham Gilpin

John Barrit
Isaac Younghusband
Chas. Copland
[Lain?] J Johnson
Ro. Gambler
John Butter
Wm. Carter [Sr.?]
Robt. Langley
John Harris
James Ferguson
Josiah Woodson
Thomas Harrison
John Claypott
Paul Kauster
Abner Wiseman
Robt. Harrison
Joh. Domey
James Spinks
Josiah Moore
Hugh Kennedy
Hezekiah Bonham
Jessie Veach
Michael Humble
Reason Benton
Hercules Hawkins
John Hartford
Jas. Haughter
Daniel Carrole
Edward Teffin
Richd. Johnson
Wm. Armistead
John Hackaday
Wm. Williamson
John Christian
Robt. Drake
Stephen Wilson
Benja. Willett
Isaac Moore
John Schooley
Benja. [Has?]
Francis Hereford
John Littlejohn
Benja. [Shreve?]
Page 3
Sundry Persons
Nov. 16th
1795

To whole on 31st [March?]
Page 4
John Davenport
Saml. B. Harris
Thos. Ocean
Charles Hewlit
Jos. Dobby
Geo. Hite
Lewis Duckwell
Philip Clover
Ambrose Clark
James Hedges
Thomas Hale
Presley Boydston
Alexr. Lenierr
Jo. Franklin Jr.
Enoch Martin
Benja. Welsh
Jas. [Sture?]
Wm. Heil
Moses Harlan
James Baley
Richard Barrett
Robt. Haines
Robt. Evans




John Turner
Elijah Phelps
Jho. Granthan
John Bond
James Daveion
James Laurence
James Law
Thos. Halladay
Stephen Harlin
Jessie Harlan
Benja. [Boydston?]
Ralph Potter
Baid Cross
Hezekiah Stephens
Nathl. Mulliner
Edwd. Frojatt?
Evan Rogers
Richd. Ridgeway
Joseph Smith
John Cowgill
Isaac[?] Smith
John Ellis
Samuel Pleasants[6]




Edward Tiffin
James Lee
Henry Smith
Geo. Reed
[Obscured] Frum
Peter McMahon
Wm. Ambrose
Michel Gray
J[? no]. Bailey
Joshua Hodges
John Welsh Jr.
Lindsey Marshall
Wm. Lemon
John Murphy
George Manual
James Hood
Jonathon Wright
Edward Beeson
Nathal. White Jr.
Wm. Supton
David [Faulhaus?]
John Witt
James Wood




Thornton Fleming
Robert Carter
Robert Lowe
Thos. Taylor
Abner Golet
Aaron Dolby
Nicholas Stovin
Fredk. Duckwell
John Butter
John Hite
Saml. J. Welsh
Michael Porter
Thos. Curry
Solomon Chaffis
Joseph Gee
Jonas Hodges Jur.
Jas. Mendenhall
Abraham Branson
Joseph Bond
Isaac Brown
Saml.[Lupton?]
Robert Pleasants




John Steed
William Hite
Geo. Bruce
[Meneios?] Ellis
Jos. P. Clutter
Jos. Fletcher
John Fennis
Charles Robinson
Wm. Mereir
Joseph Hedges
Joseph Fohman
Richd. Swift
John Franklin
Jacob Fletcher
Solomon Chalsen
Abel Walker
Nathl. White Sr.
David Ross
Nathan Haines
Stephen McBride
John Mc. [Harrison?]
James Lownes




Anthony Hall
Joseph Hite
James Wall
Saml. Smith
James Crumbley
John Knott
Joseph Duckwell
John Barlaw
John Dougherty
John Vinsanheller
Thos. Boydston
Joseph Stone
Jo. Franklin
Thos. Perkin
Christian Bloom
John Antrein
Wm. Mc. Phirson
Danl. Brown
Saml. Finish
Lewis Walker
Joseph [Seer?] Jur
See also
References
External links