Templeman v. Steptoe
From Wythepedia: The George Wythe Encyclopedia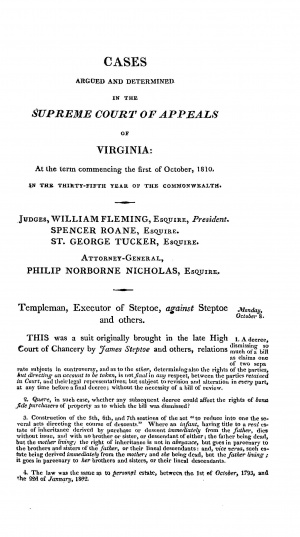 In Templeman v. Steptoe, 15 Va. (1 Munf.) 339 (1810),[1] the court determined ownership rights in an intestate minor's estate.
Background
Upon his death, George Steptoe left an estate of real and personal property to his infant son, Edward Steptoe. On May 24, 1794, the minor died unmarried and without a will. In hopes of obtaining the property themselves, George Steptoe's brother, James, and his four half-sisters sued George's widow, Elizabeth Steptoe, in the High Court of Chancery. The siblings argued that Elizabeth was excluded from succeeding the estate and that they were entitled to it since Edward had no siblings.
The Court's Decision
On March 17, 1797, Chancellor Wythe decreed the plaintiffs had no rights to the slaves or the personal estate in question and dismissed that part of the complaint. Wythe then ordered the Commissioners to make an account of the property connected to the estate and partition the land among the siblings. The Court of Appeals affirmed Chancellor Wythe's decree.
See also
References
↑ William Munford, Reports of Cases Argued and Determined in the Supreme Court of Appeals of Virginia, (New York: I. Riley, 1812), 1:339.