Taylor's Administrator v. Nicolson
From Wythepedia: The George Wythe Encyclopedia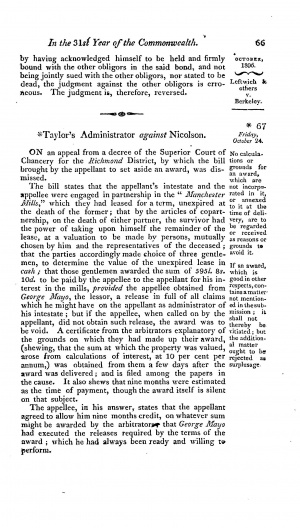 Taylor's Adm'r v. Nicolson, 11 Va. (1 Hen. & M.) 66 (1806),[1] was a case where the court determined whether there were legal grounds to set aside an arbitration award.
Background
Taylor and Nicolson entered a partnership to lease "Manchester Mills". Under their Articles of Co-partnership, if one partner died prior to the lease's expiration, the surviving partner could purchase the remainder of the lease for a price determined through arbitration. Taylor died before the lease expired and Nicolson sought to buy Taylor's portion of the lease. Following the terms of the agreement, Taylor's Administrator and Nicolson chose three arbitrators to determine the buying price. The arbitrators found Taylor's portion of the lease to be worth £595. However, the arbitrators based the award on the condition that George Mayo, the lessor, waive any future liability on Taylor's estate. Although George agreed to these terms, Taylor's Administrator sued Nicolson arguing that the award should be set aside because the arbitrators departed from the terms of the arbitration, the rates used to determine the award were usurious, and the award lacked mutuality.
The Court's Decision
Chancellor Wythe dismissed the request to set aside the award. Wythe then decreed that Taylor's Estate should receive the sum of the award, with interest after deducting Nicolson's costs in defending the suit. The Court of Appeals affirmed.
See also
References
↑ William Hening and William Munford, Reports of Cases Argued and Determined in the Supreme Court of Virginia: With Select Cases, Relating Chiefly to Points of Practice, Decided by the Superior Court of Chancery for the Richmond District (Flatbush, N.Y.: I. Riley, 1809), 1:66.