Rowton v. Rowton
From Wythepedia: The George Wythe Encyclopedia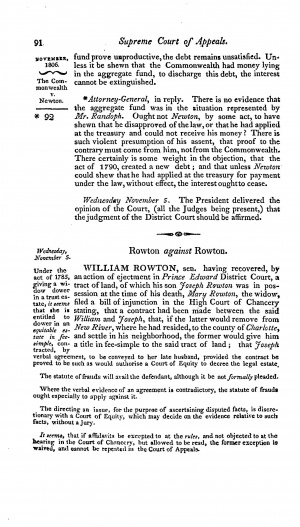 Rowton v. Rowton, 11 Va. (1 Hen. & M.) 91 (1806),[1] determined whether a verbal agreement entitled a widow dower in an estate promised to her husband.
Background
William Rowton, Sr. sued in Prince Edward District Court to evict his son Joseph Rowton from a tract of land that Joseph was in possession of at the time of his death. William obtained a judgment and Joseph's widow filed a bill of injunction in the High Court of Chancery. In her bill, Joseph's widow alleged that William and Joseph had an agreement that if Joseph were ever removed from the New River property William would give him a tract of land in Charlotte County. The widow alleged that since Joseph invested into the New River property he should be entitled to specific performance of the agreement and she should have dower in the Charlotte County land. In his answer, William stated that since his son had died with no children, the land would revert back to him and that the agreement was subject to the statute of frauds since it was not in writing.
The Court's Decision
After considering contradictory evidence from both sides, Chancellor Wythe decreed that the widow was entitled to dower and perpetuated the injunction. The Court of Appeals reversed, dissolved the injunction, and dismissed the case.
See also
References
↑ William Hening & William Munford, Reports of Cases Argued and Determined in the Supreme Court of Appeals of Virginia: with Select Cases, Relating Chiefly to Points of Practice, Decided by the Superior Court of Chancery for the Richmond District (Flatbush, N.Y.: I. Riley, 1809), 11:91.