Randolph v. Randolph
From Wythepedia: The George Wythe Encyclopedia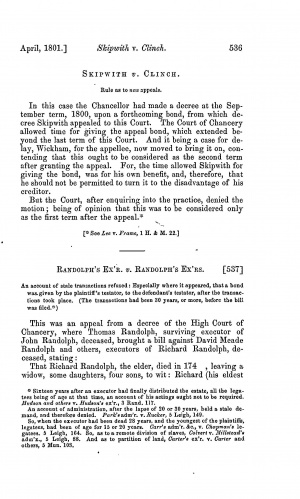 Randolph v. Randolph, 6 Va. (2 Call) 453 (1801),[1] was a case where the transactions that triggered the suit occurred over 30 years before the complainant was filed.
Background
Thomas Randolph, the executor of John Randolph, sued David Meade Randolph, the executor of Richard Randolph, in the High Court of Chancery. The facts of the suit are these: Richard Randolph, Sr. died in the 1740s leaving a widow, some daughters, and four sons: Richard Jr., Brett, Ryland, and John. Richard, Jr. was made the testator of his father's estate. He handled all of his dad's debts but never made an account of how he administered the funds nor gave his brothers their portions of the estate though the estate was considerably large. John Randolph was very young when their father died and due to his age, John lived with Richard, Jr. until adulthood, continuing to do so even after coming of age. As a result, Richard, Jr. and John's finances become more commingled and complicated. On April 1764, John gave Richard, Jr. a bond for £635. However, on February 1768, John took out a mortgage using Richard's estate to make payments. Eventually, David Meade Randolph, the son of Richard, Jr. sued John Randolph for the money he borrowed for his mortgage. In April 1790, the District Court granted David a judgment for £1271. In the present case, Thomas Randolph, John's son, sued in the High court of Chancery requesting that an account be made of the administration and that appropriate debts be deducted from David's judgment.
The Court's Decision
At a hearing in March 1799, Chancellor Wythe dismissed the case. The Court of Appeals affirmed the decree. Following the decree of the Court of Appeals, the appellants filed a Bill of Review with the Chancery Court on the grounds of new evidence. Wythe granted the appellants relief, from which the appellees appealed. On Saturday, November 22, 1801, the Court found that Wythe should not have accepted the bill of review and overturned the case.
See also
References
↑ Daniel Call, Reports of Cases Argued and Adjudged in the Court of Appeals of Virginia,(Richmond: A. Morris, 1854), 2:453.