Nelson v. Harwood
From Wythepedia: The George Wythe Encyclopedia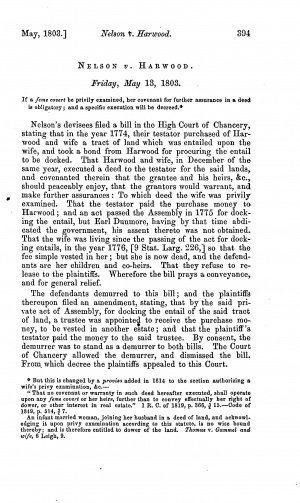 Nelson v. Harwood, 7 Va. (3 Call) 342 (1803),[1] was a land dispute case.
Background
In 1774, Nelson purchased a tract of land from Harwood and his wife. In December of the same year, Harwood and his wife executed the deed promising Nelson that Nelson and his heirs alone would peaceably enjoy the land. Harwood's wife was alive after America declared independence, allowing the land to vest to her. However, prior to the lawsuit, Harwood's wife passed away and her children, feeling entitled to the property, refused to turn over the land to Nelson. Nelson sued Harwood's children in the High Court of Chancery for conveyance of the property, as stated in the deed, and for general relief.
The Court's Decision
Chancellor Wythe allowed the demurrer (similar to a motion for failure to state a claim) and dismissed the case. The Court of Appeals reversed the decision and overruled the demurrer, forcing the defendants to answer the complaint.
See also
References
↑ Daniel Call, Reports of Cases Argued and Adjudged in the Court of Appeals of Virginia, (Richmond: A. Morris, 1854), 3:342.