National Intelligencer, and Washington Advertiser, 15 December 1806
From Wythepedia: The George Wythe Encyclopedia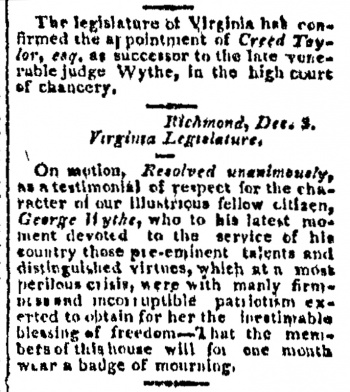 In December of 1806, the National Intelligencer in Washington, D.C. announced that the Honorable Creed Taylor (1766 – 1832) had been confirmed as the replacement for the Richmond district's high court of chancery, following the death of George Wythe on June 8 (Taylor was appointed on June 14).[1] Also resolved, on December 3, that the Virginia General Assembly would wear a "badge of mourning" for one month as a sign of respect.[2]
Article text, 15 December 1806
Page 2
---

The legislature of Virginia has confirmed the appointment of Creed Taylor, esq. as successor to the late venerable Judge Wythe, in the high court of chancery.

---

Virginia Legislature.

---

On motion, Resolved unanimously, as a testimonial of respect for the character of our illustrious fellow citizen, George Wythe, who to his latest moment devoted to the service of his country those pre-eminent talents and distinguished virtues, which at a most perilous crisis, were with manly firmness and incorruptible patriotism exerted to obtain for her the inestimable blessing of freedom—That the members of this house will for one month wear a badge of mourning.

---
See also
References
↑ "On Sunday the 8th day of June 1806, the Venerable GEORGE WYTHE, Judge of the Superior Court of Chancery for the Richmond District, departed this life, in the eighty-first year of his age, and on the 14th of the same month, CREED TAYLOR, Esquire, was appointed his successor, who took his seat accordingly, at the ensuing term." William Hening and William Munford, eds., Reports of Cases Argued and Determined in the Supreme Court of Appeals of Virginia: With Select Cases Relating Chiefly to Points of Practice, Decided by the Superior Court of Chancery for the Richmond District (Philadelphia, 1808), 1:viii.
↑ National Intelligencer, and Washington Advertiser (Washington, D.C.), 15 December 1806, 2; Journals of the Council of Virginia, vol. 27, 448. Cited in Imogene E. Brown, American Aristides: A Biography of George Wythe (Rutherford, NJ: Fairleigh Dickinson University Press, 1981), 301.