Mutual Assurance Co. v. Mahon
From Wythepedia: The George Wythe Encyclopedia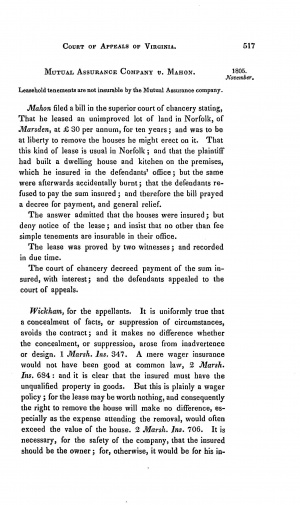 Mutual Assurance Co. v. Mahon, 9 Va. (5 Call) 517 (1805),[1] is a case determining whether leasehold tenements were insurable by a specific insurance company.
Background
Mahon leased an improved lot in Norfolk for £30 per year for ten years. In his lease, Mahon was at liberty to remove the houses he erected on the land, which was usual for leases in Norfolk at the time. In this case, Mahon had built a house and kitchen on the leased property which he insured with the defendant, Mutual Assurance Company. After insuring the dwelling the place accidentally caught on fire; however, the insurance company refused to pay the insured sum claiming they did not know Mahon leased the property and that their company only insured fee simple tenements, not leased tenements. Mahon sued in the Superior Court of Chancery to obtain payment for the insured sum and general relief.
The Court's Decision
Chancellor Wythe decreed payment for the insured sum with interest. The Court of Appeals reversed and annulled the decision and order it be remanded to Court of Chancery for a separate account to be taken.
See also
References
↑ Daniel Call, Reports of Cases Argued and Decided in the Court of Appeals of Virginia,(Richmond: R. I. Smith, 1833), 5:517.