M'Rae v. Woods (1795)
From Wythepedia: The George Wythe Encyclopedia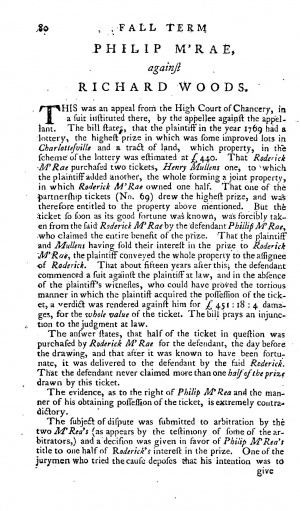 M'Rae v. Woods, 2 Va. (2 Wash.) 80 (1795),[1] the Court determines who owns the winning when three friends pool their money and play the lottery.
Background
In 1769, Richard Woods, Roderick M'Rae, and Henry Mullens bought lottery tickets as joint property. Since Roderick M'Rae bought the majority of the tickets, the group agreed that he would own half of whatever they won. Ultimately, the group won the highest prize of the lottery which included some land in Charlottesville estimated at £440. However, as soon as the group discovered their winnings, Philip M'Rae forcefully took the ticket as his own and obtained the winning. A dispute between the two M'Raes ensued and was submitted for arbitration. The arbiters decided to give Philip M'Rae title to one half of Roderick's interest. Philip M'Rae was unhappy with the decision as the claim for arbitration regarded the whole ticket. Philip then brought the case to the High Court of Chancery.
The Court's Decision
After hearing the case, Chancellor Wythe directed that the parties should try the action again before a common law court. The Court of Appeals affirmed.
See also
References
↑ Bushrod Washington, Reports of Cases Argued and Determined in the Court of Appeals of Virginia (Richmond: T. Nicolson, 1799), 2:80.