M'Call v. Peachy
From Wythepedia: The George Wythe Encyclopedia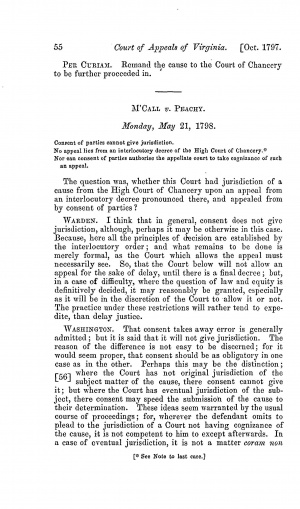 In M'Call v. Peachy, 5 Va. (1 Call) 48 (1798),[1] the court determined whether the consent of both parties could grant a court jurisdiction over their case.
Background
The Court of Appeals sought to answer whether it had jurisdiction over a High Court of Chancery case for an interlocutory decree that was appealed by the consent of both parties rather than permitted to be appealed by Chancellor Wythe.
The Court's Decision
The Court Appeals determined that the consent of both parties cannot give jurisdiction.
See also
References
↑ Daniel Call, Reports of Cases Argued and Adjudged in the Court of Appeals in Virginia, (Richmond: A. Morris, 1854) 5:48.