Love v. Ross, Shore & Co.
From Wythepedia: The George Wythe Encyclopedia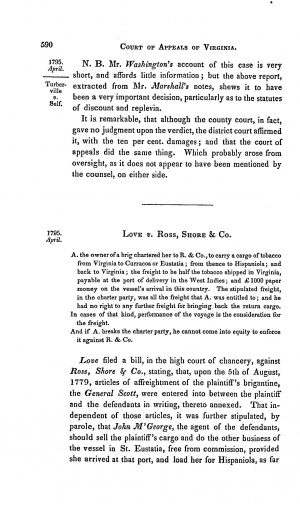 Love v. Ross, Shore & Co., 8 Va. (4 Call) 590 (1795),[1] involved a maritime contract dispute.
Background
Love owned a brigantine [two-masted sailboat] called the "General Scott". Love charted his boat to Ross, Shore, & Co. to carry tobacco from Virginia to Curacao or Eustatia. On August 5, 1779, Love entered a separate affreightment agreement with two of Ross, Shore, & Co.'s employees. The terms of the first agreement stipulated that John M'George, an agent of Ross, Shore & Co., would sell Love's cargo in Eustatia and reload the ship for Hispaniola. The second agreement required Douglass, another agent of Ross, Shore, & Co., to purchase cargo in Hispaniola before the ship returned to Virginia. Both of these contracts failed to provide the employees commission. Love anticipated a great profit from this venture and agreed to give up half of the ship's storage to carry out the transactions. However, when the ship was finally ready to set sail, Ross, Shore, 7 Co. refused to allow John M'George and Douglass to buy or sell more cargo. Learning of the company's refusal, Love sold all the additional cargo on the ship to Braxton. Ross, Shore, & Co. sued and gained a money judgment against Love in Henrico County Court for the cost of the cargo he sold that was not included in his contract. Love filed a suit in the High Court of Chancery requesting relief from the judgment.
The Court's Decision
Chancellor Wythe dismissed the case. The Court of Appeals unanimously affirmed.
See also
References
↑ Daniel Call, Reports of Cases Argued and Decided in the Court of Appeals in Virginia, (Richmond: R. I. Smith, 1833), 4:590.