Latham v. Latham
From Wythepedia: The George Wythe Encyclopedia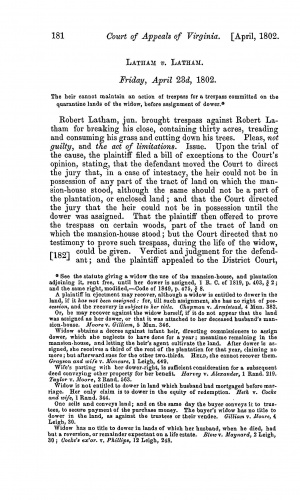 In Latham v. Latham, 7 Va. (3 Call) 181 (1802),[1] the Court determined whether an offspring could sue for trespass on land that had yet to be bestowed upon the wife.
Background
Robert Latham, Jr. brought a trespass suit against his father for breaking his closing date, treading and consuming his grass, and cutting down his trees. During the trial there was a question of whether the heir of a property could be in possession before the widow received her dower. The trial court told the jury that an heir could not be in possession until the dower was assigned. Latham, Jr. argued that he could prove specifically where the trespass took place and that it was on his property, but the Court refused to hear the testimony. A verdict and judgment was found against Latham, Jr. and he appealed to the High Court of Chancery.
The Court's Decision
Chancellor Wythe affirmed the ruling of the County Court. The Court of Appeals agreed.
See also
References
↑ Daniel Call, Reports of Cases Argued and Adjudged in the Court of Appeals in Virginia, (Richmond: A. Morris, 1854), 3:181. George Wythe owned the first edition of this set.