Johnson v. Pendleton
From Wythepedia: The George Wythe Encyclopedia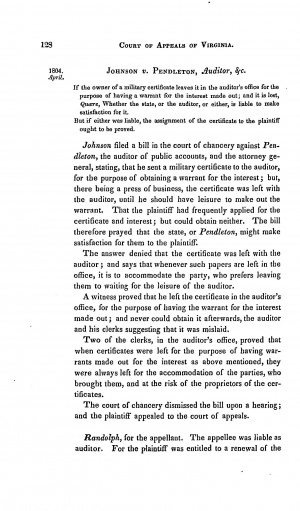 Johnson v. Pendleton, 9 Va. (5 Call) 128 (1804),[1] determined who is liable when a military certificate is lost at the auditor's office.
Background
Johnson sued Pendleton, the auditor of public accounts, in Chancery Court. Johnson argued that he sent a military certificate to the auditor to obtain a warrant of interest, but at the time the auditor was busy. Johnson, left the military certificate with the auditor so that Pendleton could make out the warrant at his own leisure. On multiple occasions after coming to the auditor, Johnson attempted to apply for the certificate and its interest; however, he could not obtain either. Johnson sued so that either Pendleton or the State of Virginia could provide him with just compensation.
The Court's Decision
Chancellor Wythe dismissed the case. The Court of Appeals affirmed the decree, but without prejudice.
See also
References
↑ Daniel Call, Reports of Cases Argued and Decided in the Court of Appeals of Virginia, (Richmond: R. I. Smith, 1833), 5:128.