Johnson v. Buffington
From Wythepedia: The George Wythe Encyclopedia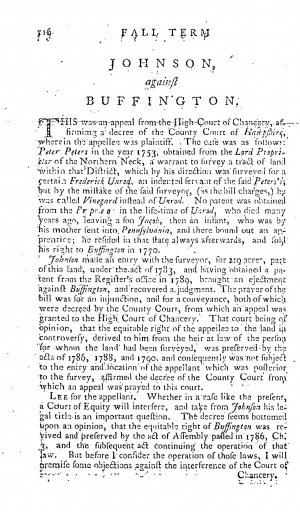 In Johnson v. Buffington, 2 Va. (2 Wash.) 116 (1795),[1] the Court determined who had ownership rights to a tract of land.
Background
In 1753, Peter Peters obtained a warrant to survey a tract of land from the Lord Proprietor of the Northern Neck. Peters wanted to survey the land to give grant it to his indentured servant, Frederick Unrod. However, Peters alleged that the surveyor made a mistake and named Frederick, Vinegard instead of Unrod. During Unrod's lifetime, no patent was obtained on the property. However, the property was left to Unrod's son, Jacob, who later sold his property rights to a man named Buffington in 1770. After the Act of 1783, a man surnamed Johnson man an entry with the surveyor for 219 acres of the Northern Neck land. Johnson then obtained a patent for the land in 1789 and brought an action of ejectment against Buffington. The petition in the lower court was an injunction over the property as well as conveyance. The County Court found in favor of Buffington and Johnson appealed to the High Court of Chancery.
The Court's Decision
Chancellor Wythe affirmed the decree of the County Court of Hampshire. Wythe was of the opinion that the equitable right to the land in controversy was preserved by the acts of 1786, 1788, and 1790. Johnson later appealed to the Court of Appeals, however, the Court affirmed the previous rulings.
See also
References
↑ Bushrod Washington, Reports of Cases Argued and Determined in the Court of Appeals of Virginia, (Richmond: T. Nicolson, 1799), 2:116.