Johnson v. Brown
From Wythepedia: The George Wythe Encyclopedia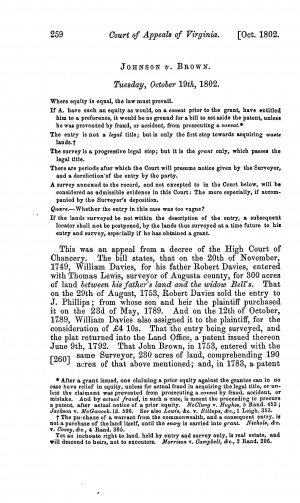 Johnson v. Brown, 7 Va. (3 Call) 259 (1802),[1] is a case where the Court determined who would recover when two surveys were made for the same property and both were recorded.
Background
On November 20, 1749, William Davies surveyed 300 acres for his father, Robert Davies. On August 29, 1753, Robert sold the survey to J. Philips, who bestowed the land to his son. On May 23, 1789, Johnson purchased the land from Philip's son. On October 12, 1789, Johnson was also assigned the land from William Davies, paying £4 for consideration. On June 9th, 1792, the Land Office issued a formal patent of the purchase. In 1753, John Brown obtained a patent for 230 acres of land, 190 acres of which were included in Johnson's patent. Brown sued Johnson in the High Court of Chancery for conveyance of the 190 acres.
The Court's Decision
Chancellor Wythe decreed in favor of Brown. The Court of Appeals unanimously affirmed.
See also
References
↑ Daniel Call, Reports of Cases Argued and Adjudged in the Court of Appeals of Virginia, 3rd ed., ed. Lucian Minor (Richmond: A. Morris, 1854), 3:259.