Hunter v. Hall
From Wythepedia: The George Wythe Encyclopedia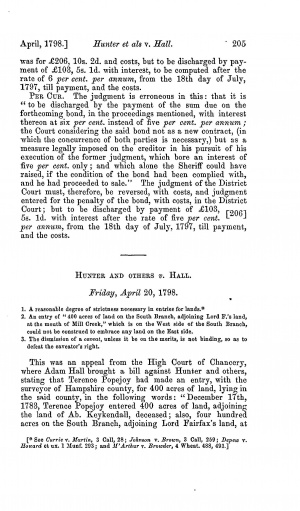 Hunter v. Hall, 5 Va. 205, 1 Call 206 (1798),[1] was a land dispute case where the plaintiff argued the defendant obtained a patent in the land fraudulently.
Background
Adam Hall was assigned 400 acres of land from Martin Brown. Hall had the land surveyed and returned the survey to the Register's office. Hunter also had a location and survey of lands which included a large part of Hall's land. When Hall attempted to obtain a patent in the land, Hunter entered caveat against him. After hearing of Hunter's attempt to obtain a patent, Hall was going to enter a caveat against Hunter, but the two parties agreed that the owner of the land would be determined on Hunter's caveat against Hall. However, when the lower court dismissed Hunter's caveat, Hunter still filed a patent for the land. Hall is suing Hunter for fraudulently procuring a patent and asks the court to grant him relief against Hunter's patent.
The Court's Decision
Chancellor Wythe found in favor of the plaintiff. Wythe was under the opinion that even though the original owner of land obtained it with the sale of a small consideration, Hall still had good title to the land and should have the right to the land if the defendant has not engaged in unfair practice. Wythe gave the plaintiff the relied he sought. The Court of Appeals overturned the Chancellor's decision and dismissed the case.
See also
References
↑ Daniel Call, Reports of Cases Argued and Adjudged in the Court of Appeals of Virginia, 3rd., ed. Lucian Minor (Richmond: A. Morris, 1854), 1:206.