Hord v. Dishman
From Wythepedia: The George Wythe Encyclopedia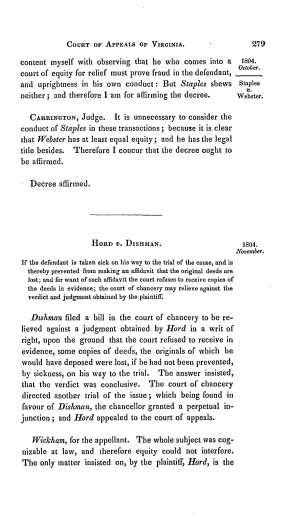 Hord v. Dishman, 9 Va. (5 Call) 279 (1804),[1] discussed whether the Court of Chancery could give relief against a verdict and judgment obtained by the plaintiff if sickness prevented the defendant from offering evidence.
Background
During a lower court case, Hord obtained a judgment against Dishman for a writ of right, which named Hord the rightful owner of a track of land. Dishman brought this suit against Hord in the Court of Chancery requesting relief for the judgment. Dishman argued that he was sick on the day of trial which prevented him from making an affidavit stating the original deeds were lost. Due to Dishman's absence at the trial, the lower court would not admit copies of the deeds into evidence, which led to Hord's favorable outcome. Dishman sought equity in the Court of Chancery concerning the effect his illness had on the case.
The Court's Decision
Chancellor Wythe called a mistrial and another jury found in favor of Dishman. Reflecting this decision, the Chancellor granted a perpetual injunction. The Court of Appeals affirmed.
See also
References
↑ Daniel Call, Reports of Cases Argued and Decided in the Court of Appeals, (Richmond: R. I. Smith, 1854), 5:279.