Hopkins v. Blane
From Wythepedia: The George Wythe Encyclopedia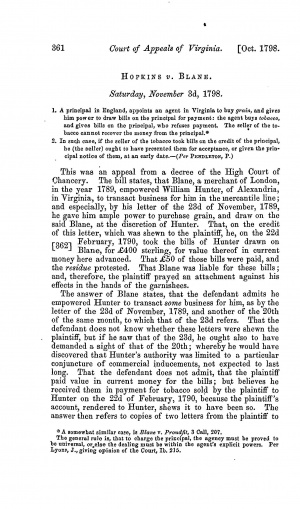 Hopkins v. Blane, 5 Va. (1 Call) 361 (1798),[1] was a dispute involving whether a London merchant was liable for a grain purchase.
Background
In 1789, Blane, a London merchant, appointed William Hunter from Alexandria, Virginia as his agent. Hunter's duties were to buy grain for Blane and, at Hunter's discretion, draw on Blane for payment. On February 22, 1790, Hunter purchased tobacco from Hopkins using Blane's letter as surety. Hunter paid Hopkins an advance of £50 and left a balance of £400. Hopkins brought this suit against Blane in the High Court of Chancery to find Blane liable for the bills and pray an attachment against Blane so he can receive payment.
The Court's Decision
Chancellor Wythe, being of the mind that the agent, William Hunter, did not have the explicit power from Blane to purchase tobacco or any products outside of grain, dismissed the case with costs. The Court of Appeals unanimously affirmed.
See also
References
↑ Daniel Call, Reports of Cases Argued and Adjudged in the Court of Appeals of Virginia, 3rd ed., ed. Lucian Minor (Richmond: A. Morris, 1854), 1:361.