Hoomes v. Smock
From Wythepedia: The George Wythe Encyclopedia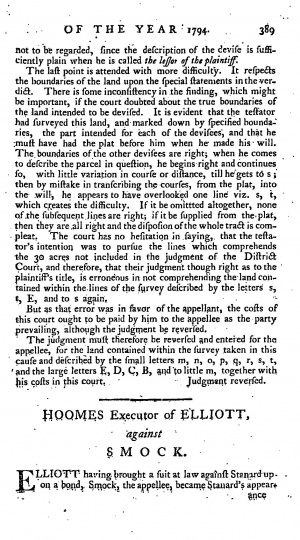 Hoomes v. Smock, 1 Va. (1 Wash.) 389 (1794),[1] was a case where the court determined whether the defendant knew he received a bond through illegal consideration, voiding the bond.
Background
Elliot obtained a judgment against Smock in County Court for recovery of a bond. Smock later sued Elliot in the County Court's Chancery division claiming the bond was obtained through gaming consideration and an injunction should be placed against the judgment. Elliot argued that he knew the sum of bond was obtained through gaming but that he obtained the bond through a considerable consideration.
The Court's Decision
The County Court perpetuated the injunction. Elliot appealed to High Court of Chancery but while the appeal was pending, Elliot died. The appeal was revived by Elliot's administrators where the lower court was affirmed. The Court of Appeals reversed the decree of the High Court of Chancery and the County Court and dissolved the obtained injunction.
See also
References
↑ Bushrod Washington, Reports of Cases Argued and Determined in the Court of Appeals of Virginia, (Richmond: R. Nicolson, 1798), 1:389.