Hite's Exec. v. Paul's heirs
From Wythepedia: The George Wythe Encyclopedia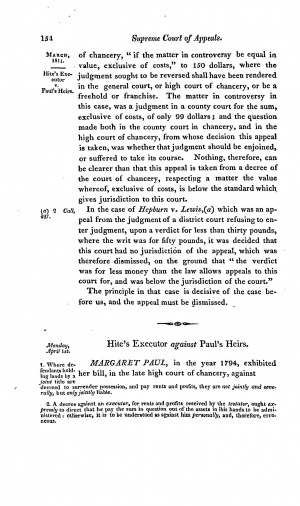 Hite's Exec. v. Paul's heirs, 16 Va. (2 Munf.) 154 (1811),[1] was a case involving the ownership of property in Beverly County, Virginia.
Background
In 1794, Margaret Paul, a resident of Pennsylvania, sued in the High Court of Chancery against the defendants. Paul claimed that Joist Hite sold a tract of located in Beverley County, Virginia to John Miles of Pennsylvania. Mr. Miles then devised the property to the plaintiff's father, who upon his passing devised to Paul. However, after John Miles had purchased the property, Thomas Lord Fairfax claim the land and attempted to sell it with a much larger tract of land to his brother George William Fairfax. After hearing of the sale, Joist Hite and others sued Fairfax in the court of chancery over title of their property and won. After Joist Hite's representative won the case, the land came into their possession and they refused to convey the property that was devised to Paul by her father, which was bought prior to the litigation. Paul sought a decree that the land be conveyed to her and that account of the profits of the land while possession of Hite's representatives also be given an account.
The Court's Decision
The Chancellor found for the plaintiff decreeing that the defendants convey the land since the defendants had no evidence of possession of the property. The Court of Appeals found the Chancellor's decree erroneous and reversed with costs. The Court then remanded to the Court of Chancery for the proper parties to be made to the case and further proceedings.
See also
References
↑ William Munford, Reports of Cases Argued and Determined in the Supreme Court of Appeals in Virginia, (New York: I. Riley, 1814), 2:154.