Henderson v. Lightfoot
From Wythepedia: The George Wythe Encyclopedia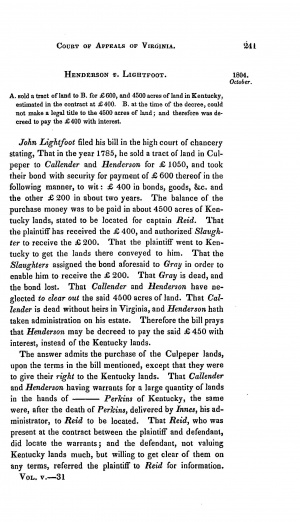 Henderson v. Lightfoot, 9 Va. (5 Call) 241 (1804),[1] was a contract dispute case where the defendant failed to pay the plaintiff for a tract of land with land in Kentucky.
Background
In 1785, John Lightfoot sold a tract of land in Culpeper, Virginia to Callender and Henderson for £1050. Lightfoot took a £600 security for the property as well as £400 in bonds and goods and £200 two years later. The balance of the land was to be paid in about 4500 acres of land in Kentucky. Both Callender and Henderson failed to pay the balance with the said 4500 acres of land. At the time of suit, Callendar died without heirs in Virginia, and Henderson was the administrator of his own estate. Lightfoot sued Henderson in the High Court of Chancery for the payment of £450 with interest, instead of the land in Kentucky.
The Court's Decision
Chancellor Wythe found in favor of the plaintiff. The Court of Appeals unanimously affirmed the decree of the High Court of Chancery.
See also
References
↑ Daniel Call, Reports of Cases Argued and Decided in the Court of Appeals of Virginia, (Richmond: R. I. Smith, 1833), 5:241.