Henderson v. Hudson
From Wythepedia: The George Wythe Encyclopedia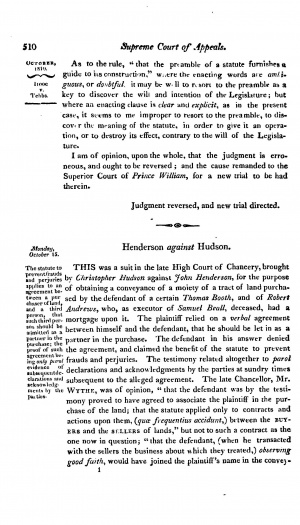 In Henderson v. Hudson, 15 Va. (1 Munf.) 510 (1810),[1] the court determined whether the statute of frauds barred the plaintiff from obtaining property he obtained through a verbal agreement.
Background
Christopher Hudson sued John Henderson for the conveyance of a tract of land Henderson purchased from a third party. Hudson claimed that he and Henderson had a verbal agreement where Hudson would be let in as a partner in the purchase of the land. Henderson denied the agreement and claimed the benefit of statute of frauds (the requirement for certain contracts to be made in writing.)
The Court's Decision
Chancellor Wythe was of the opinion that the defendant proved to have agreed to associate with the plaintiff in the land purchase and that the statute applied only to contracts between buyers and sellers and not to the contracts between partners. However, he did believe that acts of good faith applied. The Chancellor decreed that the defendant should convey with warranty against himself, one of the lands he purchases from Thomas Booth to the plaintiff. The Court of Appeals reversed and dismissed the case.
See also
References
↑ William Munford, Reports of Cases Argued and Determined in the Supreme Court of Appeals of Virginia, (New York: I. Riley, 1812), 1:510.