Hawkins's Ex'ors v. Minor, Ex'or of Berkeley
From Wythepedia: The George Wythe Encyclopedia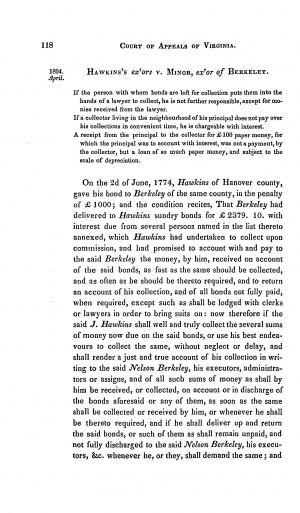 Hawkins's Ex'ors v. Minor, Ex'or of Berkeley, 9 Va. (5 Call) 118 (1804),[1] was a case involving a creditor who hired his debtor to collect his other debts, but failed to receive the money from his collection.
Background
Hawkins owed money to Berkeley; however, the two agreed that if Hawkins paid a portion of his debt, Berkeley would hire him as his own personal debt collector. For every debt Hawkins collected, the amount of the debt would be deducted from Hawkins' balance. Hawkins gave a bond to Berkeley for the amount of £1000 and, per the agreement, Berkeley delivered to Hawkins a list of names of other bonds owed and commissioned Berkeley to be his personal debt collector. Hawkins received some collections and handed others to an attorney for suit, but he failed to give Berkeley his collections prior to his death. Berkeley sued Hawkins' executors for the money and obtained a judgment against them. However, Hawkins' executors counter-sued alleging that Berkeley had already been paid and that certain collections (such as those given to attorneys) were not chargeable to Hawkins.
The Court's Decision
Chancellor Wythe directed that an account be taken, upon which there was a balance reported against Berkley's executor of about £412. The Chancellor decreed that the sum and interest starting from November 16, 1795 be paid to Hawkins. The Court of Appeals found that the Chancellor erred in his calculations and that multiple factors should be considered upon remand including the subtraction of interest accumulated during the Revolutionary War and money borrowed against the estate from the Hawkins' Executors.
See also
References
↑ Daniel Call, Reports of Cases Argued and Decided in the Court of Appeals of Virginia, (Richmond: R. I. Smith, 1833), 5:118.