Graham v. Woodson
From Wythepedia: The George Wythe Encyclopedia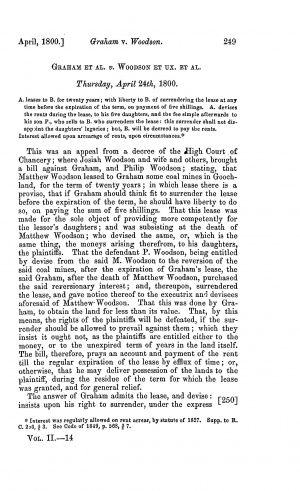 Graham v. Woodson, 6 Va. (2 Call) 249 (1800),[1] was a case where the court determined whether a tenant, who purchased the property, could also exercise the early termination provision of his lease.
Background
Mathew Woodson leased to Graham Woodson some coal mines in Goochland for 20 years. In the lease there was an early termination provision for 5 shillings. In his will, Matthew left the rent of the leased property to his daughters with the remainder of the property after the 20 years to be bestowed to his son, Philip. Upon Matthew's death, Philip sold the coal mines to Graham, who then payed the 5 shillings to terminate his lease agreement and take over the coal mines in fee simple. This case was brought by Mathew's Woodson's daughters for the loss of their interest in the coal mines. The plaintiff's argued that the intent of their father was to at least provide rent to his daughters to sustain them, not allow Graham a way to purchase the coal mines under its value.
The Court's Decision
The Court of Chancery determined that Graham should pay the rent with interest. However, if he wanted to terminate his lease prior to the 20 years he could do so but must return the property to the plaintiffs. The Court of Appeals affirmed.
See also
References
↑ Daniel Call, Reports of Cases Argued and Adjudged in the Court of Appealed of Virgina, 3rd ed, ed. Lucian Minor (Richmond: A. Morris, 1854), 2:249.